Since opening our doors in 2013, Spooky Nook has continued to see growth for our facility, as well as the sports tourism industry as a whole.
The Numbers
In an economic impact study completed by Tourism Economics in 2017, there was an estimated $87.1 million of economic impact on Lancaster County from Spooky Nook Sports. It was estimated that Nook Sports revenue and off-site ancillary spending will result in a total direct impact of $54.7 million. This direct spending will ultimately support:
Lancaster County
• $87.1 million in total business sales;
• $28.4 million in total labor income;
• 1,346 total jobs
The study also reported on direct and indirect jobs, food and beverage, lodging, and more.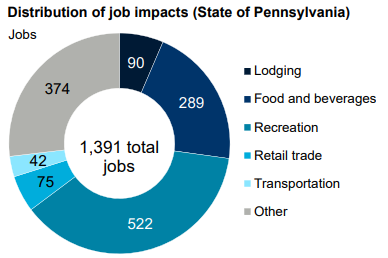 Click here to see the full report →
"The sports sector has become increasingly important to Lancaster County hotels and helps to replace lost business as a result of a market-wide slowdown in travel, combined with an increase in supply," stated Michelle Gehman, Board President of Greater Lancaster Hotel & Motel Association. "Lancaster County is currently facing a double digit decline in guest room occupancy. Year over year through May 2019 vs. May 2018, the PA Dutch territory of STR is down 12.3% - the highest loss of occupancy among all of the Pennsylvania territories surveyed by STR,"
Gehman goes on to say, "Demand created by the sporting events sector continues to provide year-round occupancy and has grown greatly with numerous new events brought to our market as a result of the opening of the Spooky Nook Sports venue."

At The Nook, we track how many visitors come in and out of our building on a daily basis. For the first time on September 24, 2017 we had 1 million visitors for that year. We did it again in 2018 on September 14, beating the previous year's record by 10 days. In 2019, that record was absolutely shattered when we welcomed our millionth annual visitor through our doors on July 14 - two whole months before the previous year.
Spooky Nook alone employs about 750 people between full-time, part-time, seasonal, and internships positions. Our opening over six years ago has made an undeniable impact on the amount of jobs offered within our county.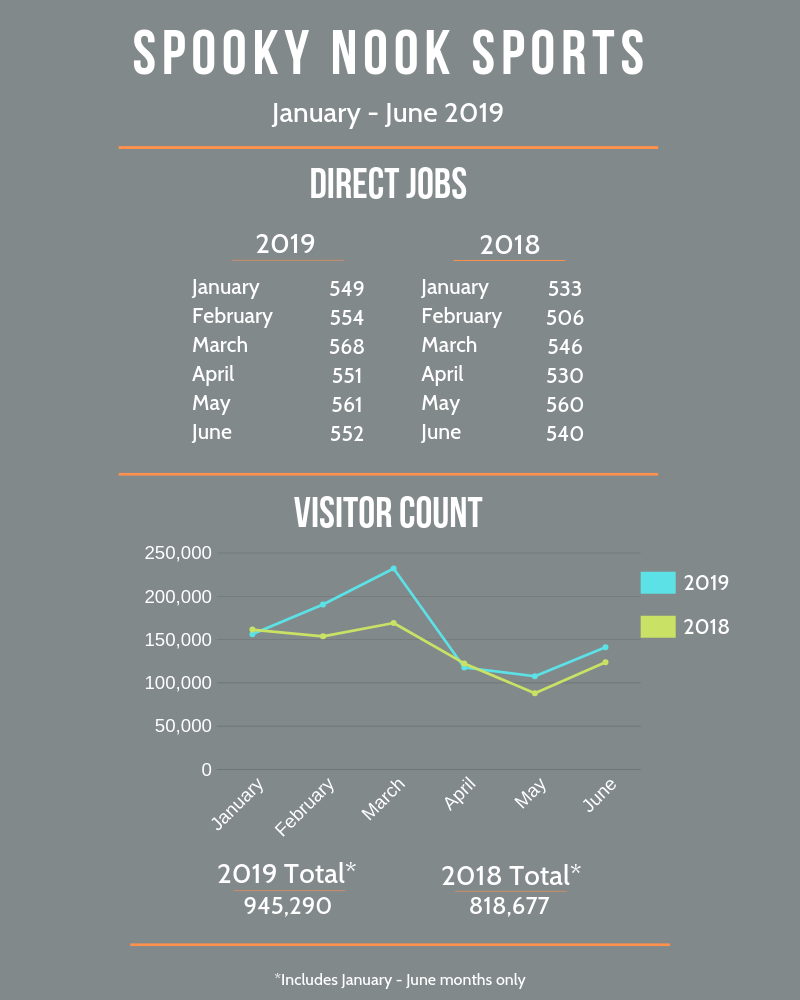 "We are not just a sports complex with a few coaching jobs and a limited concession stand," Kaleb Koons, Human Resources Manager at Spooky Nook Sports, mentioned. "We offer a high quality sports, hospitality, events, hotel, and restaurant venue that can offer vast career paths to individuals who are kind, honest, hardworking, and support the common goals of each area. We have several team members who came to The Nook as young athletes, became weekend employees in high school, continued this work throughout college, and then became full-time employees with us. We truly have something to offer every interest and career stage."
Sports Tourism
Many industries factor into a person's decision to travel outside of their county. Sports Tourism is an area that continues to see growth and consistency in Lancaster.
"The sports sector has become one of the most important market segments for several of the hotels I oversee within Central PA," noted Stephen J. Sikking, Managing Partner of the Eden Resort & Suites. "Travel within this segment continues to grow at exponential rates, especially when an area embraces the sports market by investing in specialized facilities such as Spooky Nook in Lancaster County and the Giant Center and other great venues in the Hershey/Harrisburg market. I'm happy to report I see no end to growth in the sports sector for Central PA any time soon."
PA Classics, a massive soccer club headquartered in East Petersburg, were directly responsible for the booking of nearly 7,000 hotel room nights for their events between July 1, 2018 and June 30, 2019. During this time, they also brought approximately $12 million into the local community, while generating another $115,000 in local taxes.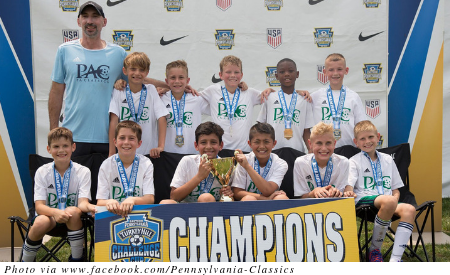 "The sports tourism economy has been, and continues to be, a thriving, growing industry," said Mary Helen Sprecher, Managing Editor for Sports Destination Management. "In fact, it's been called the 'recession-proof economy' because it has stayed consistently strong even when people were making financial cutbacks in other areas; they continued to keep their kids enrolled in sports programs and would fund their trips to tournaments and competitions. We've seen that when they travel for sports, families are also extending their stays a few days and book-ending vacations around tournaments so that they can explore the cities with the kids. It's a win-win-win: kids get to play their sport, parents get a family vacation and cities realize economic benefits."
Organizations like Spooky Nook Sports, PA Classics, and so many other sports-related groups provide services to both local and visiting athletes that make them want to return year over year.

"Pennsylvania's sports tourism scene continues to thrive," stated Dean Polk of PA Sports. "Not just with large-scale national events like the 2017 NFL Draft, the 2026 MLB All-Star Game, annual NASCAR races, and NCAA Championships, but with hundreds of local events held each year in communities throughout the state. 2016 data showed that sports tourism in Pennsylvania generated a total economic impact of $766.4 million. Of which, nearly 50% was generated from events supported by the then twelve member destinations of PA Sports, the leading sports tourism organization for the Commonwealth of Pennsylvania."
In Spooky Nook's Economic Impact report, it states that the impact from The Nook is about $98.8 million throughout the state. Using the figure from PA Sports of a $766.4 million total impact, this means that one venue is responsible for 13% of that total number.
The Future of Spooky Nook Sports
After six years of operation, the time to reinvent our business is upon us. Our team constantly looks for ways to expand and improve our offerings to clients and customers.
One of the areas of our business recognized as a growth opportunity is our Meetings & Events department. During 2019, we hosted nearly 300 non-sports related events. Sports is still the foundation of our business, but there is a need to fill the building Monday - Friday while most of those youth athletes are in school. Corporate meetings and events have proven to be a perfect fit into our current structure.

"We have been hosting meetings and events at the Nook since we opened our doors in 2013," said Danielle Work, Director of Sales & Events at The Nook. "Our increase in events has significantly grew year over year and has been a huge part of our growth at The Nook outside of sporting events. With additional renovations taking place in our meeting space, we don't see this trend slowing down."
The 'additional renovations' mentioned by Work refers to a number of improvements being made in 2019 to Olympic Hall, our largest event space. In the second quarter of the year, we patched and painted the entire floor area. In the coming months, we will also be making improvements to the lighting, sound, and drapery in the room.
After six years of learning experiences at Spooky Nook Sports Lancaster, we're excited as progress continues in advance of our Spooky Nook Champion Mill location in Ohio. The projected opening for that facility is late 2021/early 2022. While our Lancaster location is 700,000 sq. feet, the new complex will be 1 million sq. feet.
We thank everyone who has supported us and visited our building over the years. If you're interested in staying up to date on our latest news and happenings, you can subscribe to our blog. In the meantime, check out some of our below features that you may find interesting:
Subscribe to the Blog
Stay up to date