Spooky Nook can feed your desire for sports with an endless list of sports activities. Our world-class athletic facilities and commitment to the total experience combine to create the ultimate sports destination. Tournaments, leagues, skill training, camps, clinics, and lessons are available for each individual sport.
800K
Sq Ft Indoor Facility
12
Different Sport Offerings
Benefits of Co-Ed Sports for Kids
If you're considering joining Spooky Nook Sports to participate in a sport, you may be interested in learning all the benefits of youth sports activities and training for kids, especially when they join a co-ed sports league. Here are four of them.
1. Make New Friends
Team sports help kids meet new friends. Many kids make friends in their neighborhood or at school, but youth sports is another way to connect with people who share a common interest. Kids will have time to socialize with teammates and members of opposing teams. It's a fun way for kids to bond with others and make lasting friendships.
2. Be a Team Player
Sports are an excellent way to show kids how to cooperate and be part of a team. Teamwork is an essential skill to practice throughout your entire life. Working with a team allows kids to practice their communication skills and feel like they're part of a community they can rely on. Kids will learn how to respect others by learning how to listen to their teammates and their coaches.
Kids will also start to appreciate the value of sportsmanship while participating in youth sports. Every competitive game has a winner and a loser, and sportsmanship helps kids get used to handling situations that don't always go their way. Some examples in sports include a penalty call, dropping a pass, or missing a shot. Learning how to be a good sport is a beneficial trait that kids will carry on in all aspects of their lives.

3. Learn Time-Management Skills
Joining a sports team is fun, but it also teaches children valuable life skills they can implement at school and beyond. One of these critical skills is time management. Games and practices begin promptly, and kids will learn that the rest of the group will start without them if they don't arrive on time. Sports can also help kids learn how to prioritize things like finishing homework before practice. Youth sports are a helpful way for children to effectively manage their time and learn how to set priorities.
4. Get Active and Have Fun
Sports help kids stay active, and most importantly, have fun! Running around with other kids their age and learning a new game is enjoyable for children. Sports are a fantastic way for kids to learn about exercise, burn off some energy and make new friends.
Kids have various sports to choose from and try out while they're young. They can experiment with sports like baseball, basketball, flag football, lacrosse, field hockey, volleyball, soccer, and more and see if they enjoy participating.

Spooky Nook Sports offers participants:
Online access to your schedule
Professional staff for unsurpassed sports instruction in all our athletic programs
Experienced referees who promote a fair playing environment
Clean locker rooms and restrooms
Play, Train and Compete at Spooky Nook Sports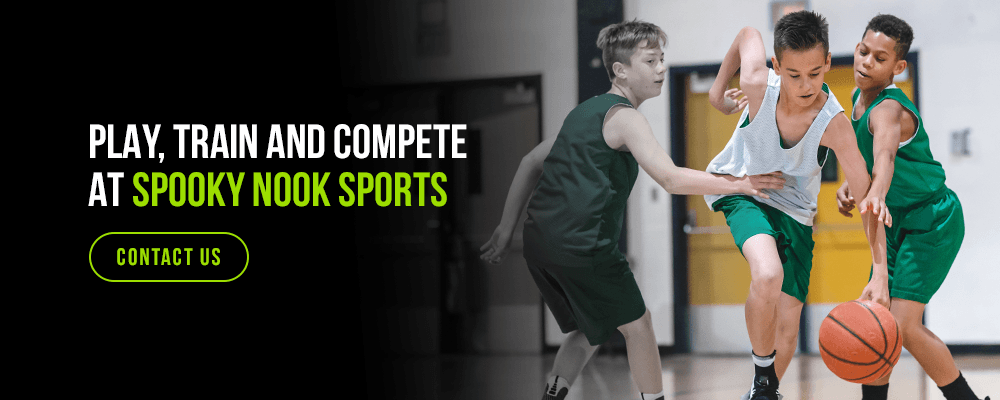 If you want to participate in youth co-ed sports leagues near Hershey, Harrisburg, and Lancaster, there's no better place to do it than the country's largest indoor sports complex. We've designed our sports programs to build character, strengthen relationships and give everyone the chance to play, train and compete in a welcoming environment that supports recreational and serious competitors.
When you join one of our co-ed sports leagues, you'll enjoy access to regulation courts and playing fields for more than a dozen different sports. If you participate in our co-ed sports programs, you'll also get to compete in our climate-controlled dome while playing field hockey, lacrosse, softball, baseball, and football.
People of all fitness levels sign up for our co-ed sports leagues, and our friendly, professional staff members welcome them all warmly. Our co-ed sports programs are as much about forming lasting relationships with new teammates as they are about reinforcing family bonds and competition. If you want to be a part of something enriching on more than just a physical level, sign up for our co-ed sports leagues in Manheim today.
To learn more about our co-ed sports leagues, contact or visit Spooky Nook Sports now!
Get in Touch With The Nook