If you've been to Spooky Nook Sports lately, you may have noticed it seems a bit brighter throughout the facility.
Owner, Sam Beiler, stated, "We have undertaken an energy retrofit project to improve lighting, decrease maintenance bulb (lamp) replacement, and reduce utility costs."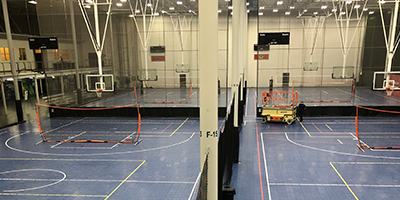 This project look a little over a month to complete. Most of the work happened during the day, with the exception of the Fitness Center, which occurred overnight after it closed.
As the project began to wrap up, Mike Porreca, Project Manager from A1 Energy stated, "A1 Energy, together with Lapp Electric, are nearing completion of a full facility LED lighting retrofit at Spooky Nook Sports. The project not only improves light levels throughout the facility but saves over 1.2 million kWh which is 43% of the building's lighting load and decreases greenhouse gas emissions by 2.1 million lbs. Spooky Nook Sports is paying for the project out of the savings through financing that A1 Energy coordinated with NO upfront out-of-pocket capital."
The project includes replacement of the interior light fixtures and exterior wall packs (the lights outside each of the doors) with new LED fixtures.
Project Fun Facts:
The estimated life of the new LED fixture is 18.5 years.
The tube bulbs in our existing light fixtures have a normal operating life of approximately 2.5 years. Some the bulbs in high usage areas of Spooky Nook Sports have already been replaced twice.
LED fixtures do not have bulbs, they have lamps.
The 18.5 year life is calculated as a result of the lights being on for 5,408 hours per year.
Subscribe to the Blog
Stay up to date