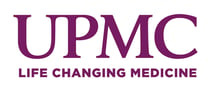 UPMC is the official sponsor of Adult Rec at Spooky Nook Sports.
Looking for a way to have fun and stay active all year round? Sign up for a recreational soccer league at a state-of-the-art fitness facility near you. Spooky Nook Sports is the largest indoor sports complex in the United States and the host of a men's and women's recreational soccer league for players of any skill level. Whether you're new to the game or an experienced soccer star, Spooky Nook Sports has an opportunity for you. Join the division that best suits your skill level and get out on the field!
Join a Local Adult Rec League
If you're looking for a way to stay fit that keeps you motivated and stretches your competitive muscles, joining a local recreational soccer league is the perfect fit. As a part of a rec soccer team, you'll push your physical limits while mixing up your normal workout routine and making a few friends along the way. Visit Spooky Nook Sports to learn how rec league sports can change your life for the better!
Men's, Women's and Coed Recreational Soccer Leagues in Central Pennsylvania
Our rec soccer leagues offer the best experience for any player ages 16 and up in the central Pennsylvania area. Players will find indoor leagues all year round at both Spooky Nook Lancaster in Manheim and Spooky Nook LANCO in East Petersburg. Join a seven-on-seven league at Lancaster or a six-on-six league at LANCO.
Our recreational soccer leagues feature men's, women's and coed divisions are broken down into skill- or age-based divisions, ensuring that any payer can join a league that's right for them. Coed teams require at least two females on the field at any given time.
Leagues meet once per week at a scheduled date and time for the duration of the season, which typically lasts two to three months. Every team will play at least eight games with certified officials.
To get started, either register your team or sign up as a free agent for placement on a team with free space.
Our Rec League Soccer Facilities
Spooky Nook Sports is proud to host rec soccer leagues at both of our state-of-the-art facilities in central Pennsylvania.
Lancaster:

The Manheim facility hosts leagues on two 120-foot by 200-foot indoor turf fields, allowing players to get as close as they can to full-sized action.
LANCO: Featuring two 80-foot by 175-foot SoftSportTM turf fields that replicate real grass, our East Petersburg facility is a great place to join a recreational sports league. Feel free to wear molded spikes instead of specialized indoor footwear.
Visit Spooky Nook Sports to Get Started
New players and seasoned veterans can all find a fun, competitive recreational soccer league at Spooky Nook Sports. For more information on our leagues or amenities, contact our team today!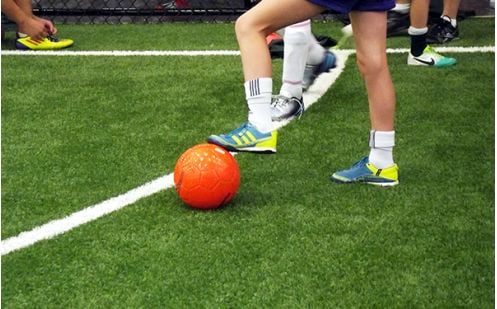 Individual & Small Group Lessons
Nook Soccer instructors conduct individual lessons on the turf or futsal courts at Spooky Nook Sports. Our coaches have years of collegiate and/or professional soccer playing and coaching experience. Each session is tailored to the wants and needs of the individual athlete. Small group lessons are available as well for a discounted rate per player.
Email soccer@nooksports.com for pricing information and to schedule your lesson.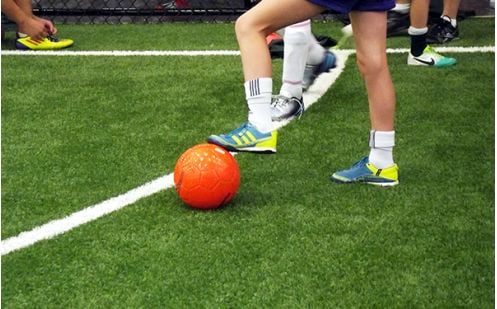 'Your Choice' Soccer
(Ages 3-16)
Are you interested in having your child participate in Soccer at the Nook, but we don't hold a program on a day or time that fits your child's schedule? You pick a day and time in which you would like to hold a 4-week program. You then invite your child's friends and neighbors to participate. We'll send them an electronic link and they'll be able to come to our website and register. Coach Rossi will conduct your choice soccer programs.
If you're interested, contact soccer@nooksports.com.
Please note that in order for us to conduct a 'Your choice' Soccer Program, we need a minimum of 10 enrollees. Also, as a way of thanking you for scheduling the program, we will waive the registration fee for your child.
Class Descriptions
First Kick: (Ages 1.5-2)
Kiddie Kickers: (Ages 2-4) Will introduce children to soccer and focus on developing the child's basic motor and social skills. This program is designed to build self-esteem and a love for the game of soccer!
Future Kickers: (Ages 4-5) Will introduce young athletes to soccer in a creative and fun environment. Focuses on developing basic motor and social skills. Basic Dribbling, Shooting and Passing Skills will be taught.
Super Kickers: (Ages 6-7)
Shots & Stops: (Ages 8-14)
Footballitis: (Ages 8-14) Teaches ball mastery and is designed to assist players to become comfortable in "pressure" situations with the ball at their feet. Soccer Specific Speed, agility, and circuit training are also included.
Soccer & Futsal Questions
Get in Touch With the Nook