The Nook Fitness Center features dynamic, energetic and results-driven group fitness classes. Our expert and certified instructors bring enthusiasm and passion to every class. This is the perfect opportunity to meet new people while getting a great workout in a group setting. Non-members can purchase open classes when available.
Read our Group Fitness descriptions→
---
Adult Group Fitness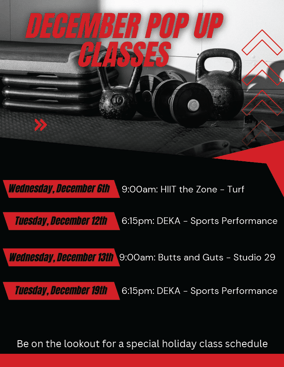 ---
How to Choose the Best Group Fitness - Group Fitness Options →
Exercising In Groups Reaps More Health Benefits - Micrographic →
Continue reading below or read our Group Fitness descriptions.

HIIT SERIES
HIIT Strength is a 30-minute high-intensity interval training (HIIT) workout, designed to improve strength and build lean muscle. This workout uses barbell, weight plate and body weight exercises to blast all major muscle groups.
HIIT Cardio is a 30-minute high-intensity interval training (HIIT) workout that improves cardiovascular fitness, increase speed and maximize calorie burn. This workout uses a variety of body weight exercises and provides the challenge and intensity you need to get results fast.
"THE ZONE" (45 min) A cardio and strength infused class that allows you to focus on heart-rate training with the support of a coach. Work at your level, your pace while receiving the tools and support you need to climb 5 levels of your heart-rate, reaching the fat-burning zone. You will row, run, and lift your way to your personal best! Try our NEW SENIOR ZONE!
Get in Touch With the Nook