I sat down with Troy, the Director of Nook Baseball, to talk about baseball at The Nook, fun facts about himself, and some of his favorite things.
Q&A with Troy
Q: Tell me about your baseball coaching career.
A: I started coaching high school in Pennsylvania. Then I moved to Florida and worked at a baseball complex. That's where I worked with the Houston Astros scout team. I came back to PA to coach college ball for 4 years. Then I started at The Nook in August 2013.
Q: What makes Nook Baseball different?
A: There are 3 reasons why a person can't do something: 1. Fundamentals. You were never taught the basic mechanics to do it the right way. 2. Physical limitations. Maybe you can't get around on the ball fast enough because your hips are tight. 3. You have that little guy inside your head telling you you can't do it. And, actually, I guess there's a fourth. 4. The educational part. Understanding what you're doing and why. Nook Baseball is different because we encompass all of this in our training program.
Q: What advice do you have for young players?
A: Where you are right now does not define you as a baseball player.
Q: What's your philosophy for the sport?
A: It helps you to be able to deal with failure because you fail more than you succeed.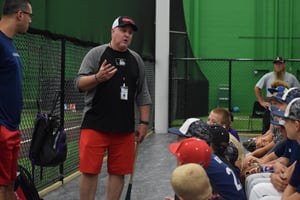 Fun Facts
Q: What's something most people don't know about you?
A: I went to States for bowling when I was 11 or 12.
Q: If you could meet a fictional character, who would you choose?
A: Bugs Bunny. He is a cool dude.
Q: If you were an animal, what would you be?
A: Alligator because they're fierce.
Q: What's one of the best pieces of advice you've ever gotten?
A: Like I said earlier, where you are right now does not define you as a human. Always try to better yourself and move forward. Find the opportunities to do that.
Q: Describe yourself in 3 words.
A: Funny. Critical. Passionate.
Q: Describe your coaching style in 3 words.
A: Understanding. Positive. Focused.
Q: Finish this sentence. I want to be known as someone who _____________:
A: Helps people.
Q: Finish this sentence. When people think of Nook Baseball, I want them to think _____________:
A: Of player development.
Troy's Favorites
Last show watched: MLB Network
Throwback jam: Thunderstruck
Karaoke go-to: ... Also, Thunderstruck.
Sport to play other than your own: Ice Hockey
What did you want to be when you grew up: Baseball Player
Favorite holiday: Christmas
Favorite food: Italian Sub
Favorite color: Burnt Orange
This or That?
M&Ms or Reeses pieces? Reeses pieces
Cats or dogs? Dogs
Netflix or Hulu? Netflix
Oceans or mountains? Mountains
Batman or Superman? Batman
Morning bird or Night owl? Night owl
Cake or ice cream? Ice cream
---
Subscribe to the Blog
Stay up to date