On July 12, USA Baseball revealed the names of the 112 players chosen to participate in the 3rd USA Baseball 12U National Open. This annual event will take place at the Major League Baseball (MLB) Urban Youth Academy in Compton, CA from July 18-20.
Caleb Sturtevant, from the Nook Baseball Academy, was one out of the 112 players selected to play in the 2016 National Open. One hundred out of these 112 players get selected to compete in this event from their participation in the 12U National Team Open Development Camps held in various locations across the country in 2016. The other 12 players are nominated by the MLB Urban Youth Academy.
A total of 25 different states will be represented at this year's 2016 National Open. Sturtevant, from Stevens, PA, is one of only five players that were chosen to represent the state of Pennsylvania.
Sturtevant, has been a part of the Nook Baseball Academy for one year. Once Sturtevant found out he was heading to the National Open, he asked Nook Baseball Director Troy Steffy what he needed to work on. Steffy said, "Sturtevant worked on that specific skill, worked hard, and made the changes necessary to achieve it."
Participants will showcase their talent in front of USA Baseball National Team coaches and staff members. As part of the official selection process for the 2016 12U National Team, players will participate in a series of athletic evaluations, skill testing, and four exhibition games.
At the end of the 3-day event, a minimum of 14 athletes will be invited to participate in the 2016 12U National Team Trials at the MLB Urban Youth Academy from July 21-23.
The final 18-man National Team roster will be announced on July 23 and we have high hopes that Sturtevant's name will be on that list.
"I think his chances for making the National Team are very good. He has all of the skills required to make it to the next round," Steffy said.
Nook Baseball Academy Player Chosen for USA Baseball's 12U National Open Roster
Published
07/18/2016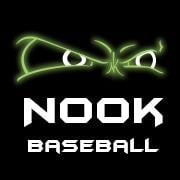 Subscribe to the Blog
Stay up to date