United States Women's National Field Hockey Team Defeats Argentina to Win Gold at Pan American Games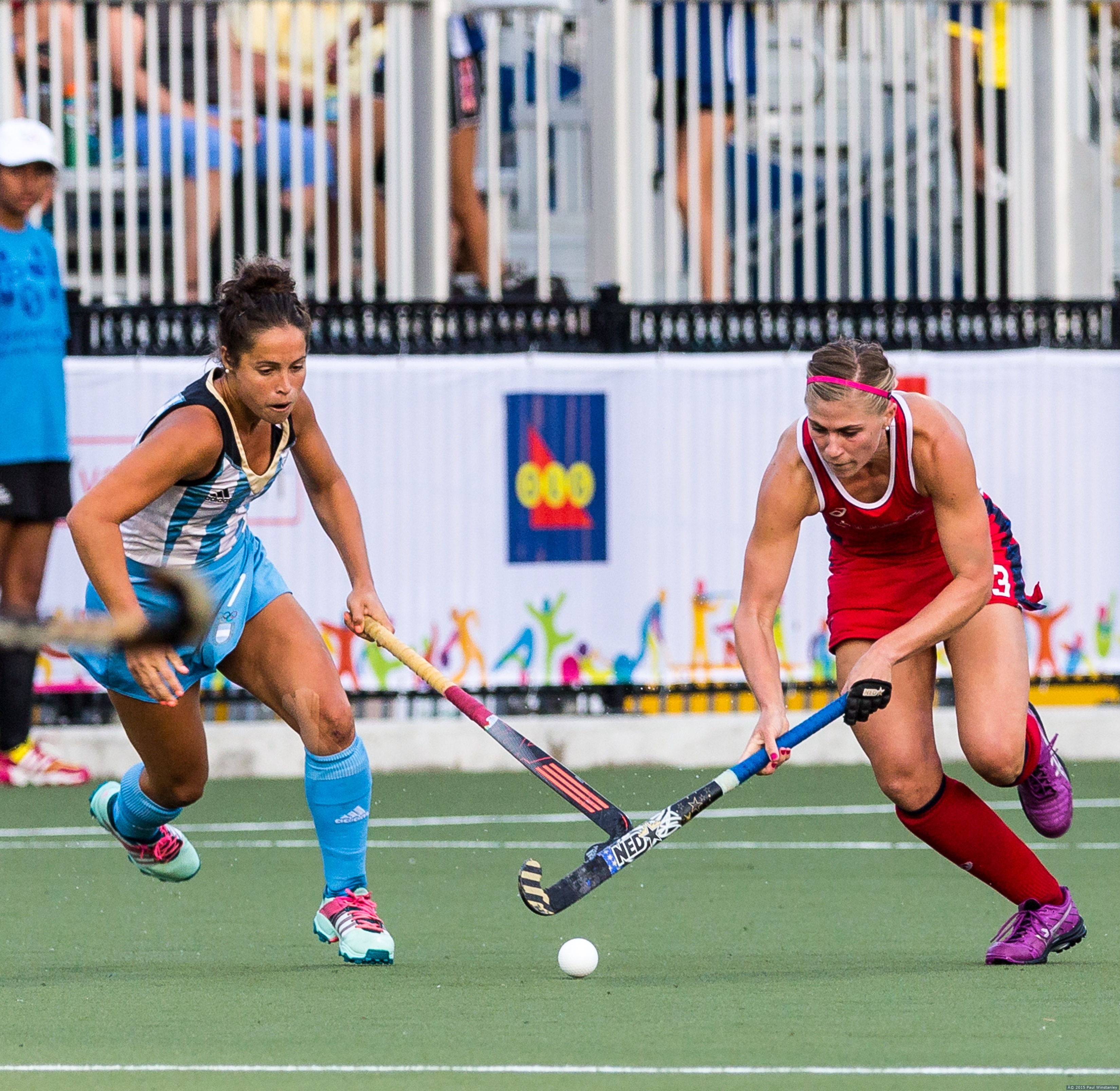 TORONTO, Canada – July 24, 2015 – The US Women's National Field Hockey team defended their 2011 Pan American Games Gold Championship Title by defeating 3rd FIH World Ranked Argentina with a first place finish at the 2015 Pan American Games in Toronto. With the 2-1 win at their continental qualifier, Team USA confirmed their direct invitation to the 2016 Rio de Janeiro Olympic Games.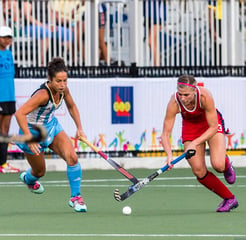 "In a game like, this against a great team like Argentina, they're going to have moments where they control the match," said U.S. Women's Head Coach Craig Parnham. "It's important for us to stay disciplined and part of the game is defending. I think we did a great job with that tonight. It shows a great deal of mental resilience, belief and toughness. It's very pleasing to see the team continue to do all of this while under pressure."
In the starting minutes, Argentina wasted no time and drove into Team USA's defensive circle and earned a penalty corner on a foot foul. With the drag flick going wide of the goal, Argentina was awarded another penalty corner off a hard foul outside of the circle. The second opportunity was saved by the glove of USA's goalkeeper Jackie Briggs (Robesonia, Pa.).
Holding together as a defensive unit, the USWNT contained possible threats and worked the ball up the field. In the 8th minute, Alyssa Manley (Litiz, Pa.) recorded USA's first strike on cage but the attempt was tipped away by an Argentinean defender. Just a minute later, Team USA earned their first penalty corner of the game. Michelle Kasold's (Chapel Hill, N.C.) sweep was saved and cleared wide but not before hitting an Argentina foot, giving the USWNT another penalty corner. On the second chance, Lauren Crandall's (Doylestown, Pa.) strike went just right of the post keeping the score at 0-0.
With ball possession being evenly held between both teams in the second quarter, Team USA pressed high and obtained control earning several circle entries and shots that were unsuccessful. Argentina gained control in the 24th minute and earned a penalty corner opportunity which was saved off the pads of USA's goalkeeper Briggs. A defensive stick save by Stefanie Fee (Virginia Beach, Va.) ruined an Argentinean threat allowing Team USA to regain control but time would expire to halftime keeping the game scoreless.
During the second half, Melissa Gonzalez (Mohegan Lake, N.Y.) continued to apply consistent pressure to force an Argentina turnover and eventually win Team USA a penalty corner chance. Kasold's powerful sweep was hit right at Argentina's goalkeeper but Kelsey Kolojejchick (Larksville, Pa.) picked up the rebound and fired a shot and earned another penalty corner. Off the third penalty corner opportunity, the ball was slipped left to Kasold who passed the ball back to the inserter, Julia Reinprecht (Perkasie, Pa.), who pass it in front of the goal mouth to Katie Reinprecht (Perkasie, Pa.) who dove and deflected the ball into the cage to give Team USA a 1-0 lead.
Argentina was quick to react and maneuvered the ball into their own attacking circle and earned a penalty corner. Off of the defensive corner unit, Gonzalez's stick on the fly redirected the ball out of danger. In the 38th minute, Jill Witmer (Lancaster, Pa.) picked up a loose ball and passed it to Paige Selenski (Shavertown, Pa.) who was unable to get a shot off. Chances kept coming as just a minute later Kolojejchick delivered a hard cross but the opportunity hit a USA foot. A minute after that, Witmer sent a cross into the circle that hit an Argentinean's foot resulting in a penalty corner. The opportunity was converted off the corner, as hard sweep by Vittese found the back of the cage to extend the lead to USA 2, Argentina 0.
Remaining composed, Team USA's goalkeeper Briggs kept absorbing Argentina's multiple shots on cage and even eliminated a threatening 1v1 situation. Relentless forward movement by Argentina opened opportunities and found an intense goalmouth scramble but the chance was unsuccessful. With back-to-back penalty corner awarded to Argentina, a goal translated in the 58th minute when Florencia Habif's drag flick hit the net changing the score to USA 2, Argentina 1.
Team USA held defensively strong to secure the 2-1 win over Argentina to claim the gold and defend the 2011 Pan American Games Gold Championship Title.
"It's an important moment for the program," said Parnham. "It was important for us to perform well and try to win this tournament and qualify for the Olympics out right. It has been a great few weeks for us here. The girls have done a terrific staying disciplined through their time in Toronto which can be difficult. We're delighted to get the result tonight."
Prior to the gold medal match, Team USA hit the backboard a total of 37 times during the Pan American Games. Even more impressive, the red, white and blue were able to hold Uruguay, Chile, Cuba, Dominican Republic and Canada scoreless, not conceding a single goal during the accumulative 300 minutes of Pan American Games play before meeting Argentina in the finals.
"I attribute this to our team defense," said Briggs. "We don't try to think about stats too much. We just try to stay in the moment and do our best. We play team defense and everyone contributes to that from our forward's press all the way in the back to Crandall and me."
"The journey we've been on the last four years has been amazing," adds Briggs. "A lot has changed within our program but the feeling of winning hasn't changed. I love this feeling. We're so happy we could keep the gold. Argentina is a great team and gave us a good fight. We did everything we could to win. There's no feeling like this."
"There are a huge number of people to thank from sponsors to stakeholders and supporters and the USOC of course," said Parnham. "There really is a team behind the team. The staff who work tirelessly everyday to drive this team forward. This is a great moment for them as well."
"I think this creates a big statement for us," said Manley. "We connected really well in the circle and had a strong defensive presence throughout the tournament. It feels really good to hold this medal."
Be part of Team USA's journey on the Road to Rio by following @USAFieldHockey on Twitter and visiting usafieldhockey.com.
Topics: Field Hockey