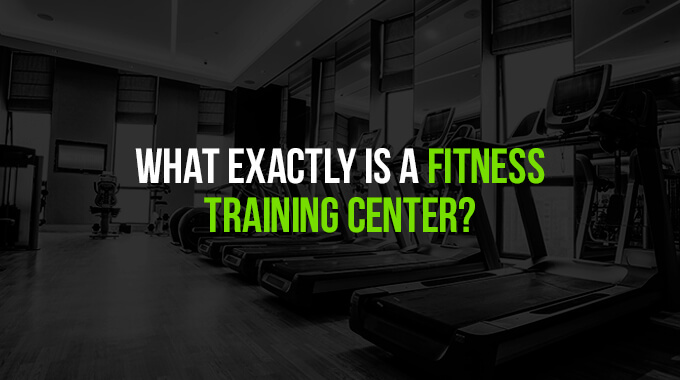 Have you heard the term fitness training center, and wondered what that meant? The concept of a fitness training center is relatively new, and it differs from gyms and health clubs in a few key ways. While a gym is usually a small venue for a quick workout, and a health club may be a combination of a gym and spa, a fitness training center is generally a much larger facility with many different sports and training opportunities for all abilities — for young and recreational athletes all the way up to professional athletes.
These huge facilities can also host leagues, tournaments, conferences and more, for all sorts of sports and levels or abilities. Read on to find out more about these unique centers for training and athleticism.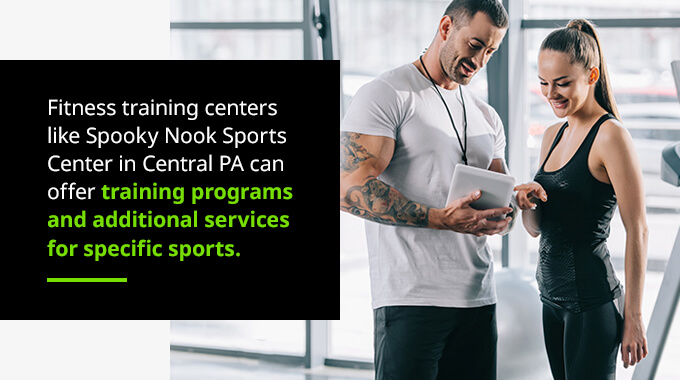 Sports Performance
One of the biggest things that set fitness training centers apart from other gyms and health centers is the sports-specific training provided. Fitness training centers like Spooky Nook Sports in Central PA can offer training programs and additional services for specific sports. These fitness centers go far beyond just having general workout equipment, though. They also provide professional sports performance trainers who understand the unique skills necessary for each sport.
Our specialized sports performance training at Spooky Nook includes the following key elements:
Customized training: We meet you at your level, whether you're just starting out, playing in youth or adult rec leagues, or are competing at the professional level. Our professional trainers can create a customized plan that's designed specifically for you to improve your performance for whatever sport you're in.
Focus on your potential: We help you reach your potential and capitalize on your individual strengths and talents. Our customized programs and training put the focus on your unique abilities. Work on increasing your speed and strength, as well as any specific skills that aid in improving your performance for your chosen sport.
Prevention of sports injuries: Working with professional trainers and scientifically backed programs means you're better protected from injuries while playing and training. Methods used at your local fitness training centers ensure your body's health and well-being, and the personalized training helps you prevent injuries even on the field.
Personalized nutrition plans: Nutrition is extremely important, no matter what sport you play. At a full-service fitness center, you can get nutrition advice, develop a personalized nutrition plan and learn how to improve your diet, which can help your sports performance, as well as your overall health.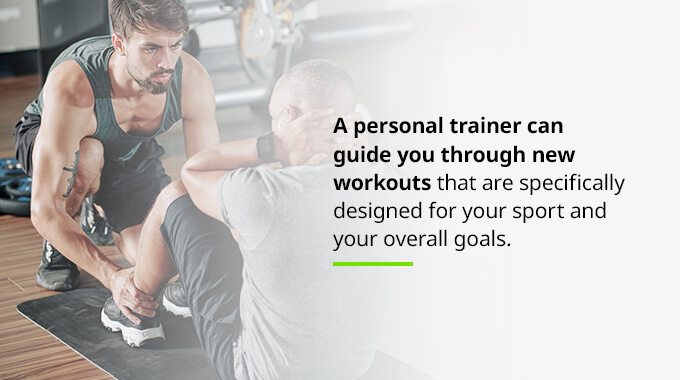 Personal Training
Personal trainers help people achieve their sports and fitness goals. While you can find personal trainers at some smaller gyms and health centers, or privately, the personal trainers available at your local fitness training center like Spooky Nook are experienced and trained in a wide variety of sports and are more equipped to help you with your goals.
If certain workouts are intimidating or if you're just not sure exactly what you should be working on, a personal trainer can help. A personal trainer can guide you through new workouts that are specifically designed for your sport and your overall goals. They will also work with you to determine your goals and customize a program just for you. While hiring a personal trainer for your workouts does come with an added cost, for many athletes, it's worth it for the personalized attention and the many benefits they provide.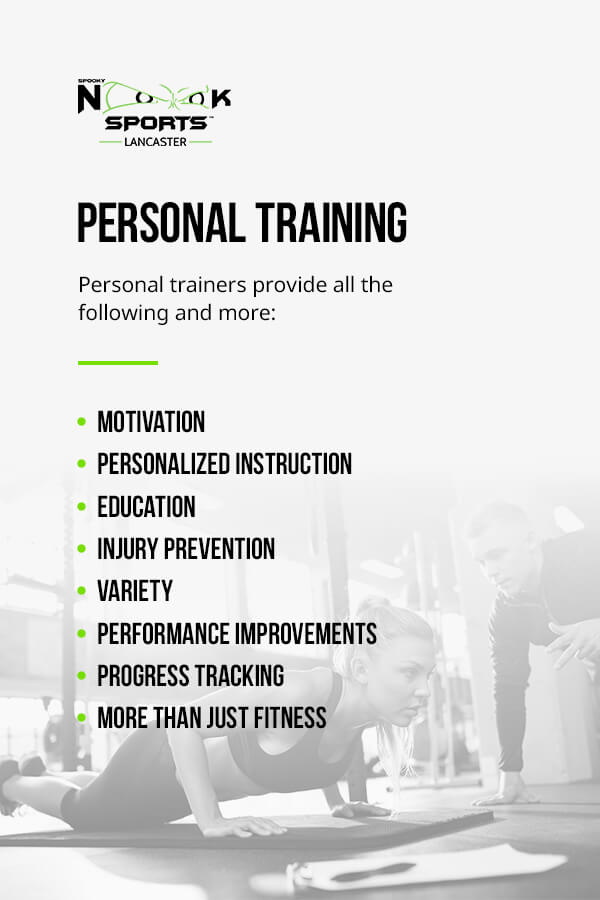 Personal trainers provide all the following and more:
Motivation: If you find workouts tough and struggle to motivate yourself to start, or find it hard to keep pushing through a difficult new workout, a personal trainer provides plenty of motivation to get you in the fitness center and keep going toward your goals.
Personalized instruction: Your personal trainer will get to know your goals for fitness and sports performance, and can customize a workout plan just for you. They can also make adjustments as you go, ensuring you're always getting the best workout for your abilities and goals.
Education: Top-quality personal trainers are professionals in their field who are trained, experienced and certified. These qualifications mean they can teach you everything you need to know about sports fitness. You're bound to learn at least a few tips and tricks along the way.
Injury prevention: Personal trainers know how to watch for common workout mistakes that can lead to injuries. They will watch you and coach you on your form as you work out, helping decrease the chances of you getting hurt as you exercise.
Variety: If your workouts are leaving you feeling a little bored, a personal trainer can mix things up and keep your workouts interesting. Every routine will be fresh and exciting when you use a personal trainer.
Performance improvements: Your personal trainer can get you on the right track for performance enhancements in your chosen sport, improving your strength and endurance, making you a better player on the court or field.
Progress tracking: Seeing just how far you've come since you started is a great perk of using a personal trainer. They can track certain metrics and show you your progress. They'll also be your greatest cheerleader and celebrate your accomplishments along the way, too.
More than just fitness: A personal trainer will help you with your fitness goals, but they can also see the bigger picture. They can help you with other health-related goals like weight management, nutrition and stress relief. All of these aspects of health and fitness are related to your well-being, and your personal trainer can help you develop a plan to improve it.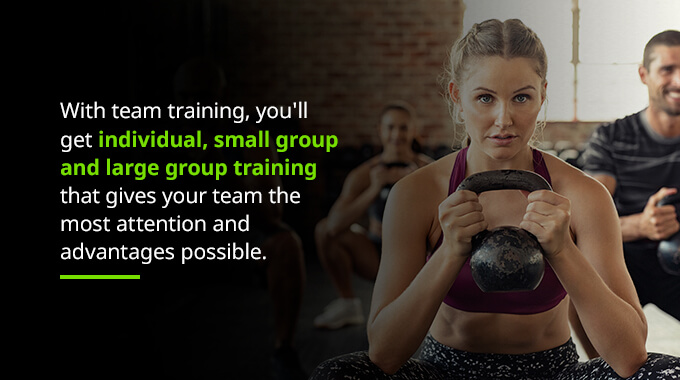 Team Training
One of the benefits of a sports facility that's as large as Spooky Nook is the ability to train entire teams together. This is a huge perk you won't find at other smaller gyms. With team training, you'll get individual, small group and large group training that gives your team the most attention and advantages possible. The whole team can benefit from the individualized attention and training, as well as work on team communication and camaraderie together.
At Spooky Nook, any team that's involved in Spooky Nook Sports Academy Teams will be automatically enrolled in team training and can benefit from all of the various opportunities this program offers. Our academy teams can experience team training benefits during their sport's regular season, and then enjoy discounted monthly rates during the off-season to continue their training and personal fitness development.
But, team training is not limited to our academy teams. Sports teams of all types and levels are invited to our team training programs. So, no matter what sport you choose, you can participate in team training. It doesn't matter if your team competes at a professional or recreational level, either. Team training programs can help your team grow with one another in their fitness levels, as well as bring the team closer by improving communication skills on and off the field. Your team can also participate in activities designed to enhance camaraderie and improve relationships.
The mixed approach of team training that targets both individuals and the team as a whole ensures everyone gets the attention they need to improve physical abilities as well as so many additional skills that help with teamwork all season long — and even in the off-season. Our specialized approach can bring your team to the next level, ensuring everyone is performing at their personal best and working together as a team for the best results.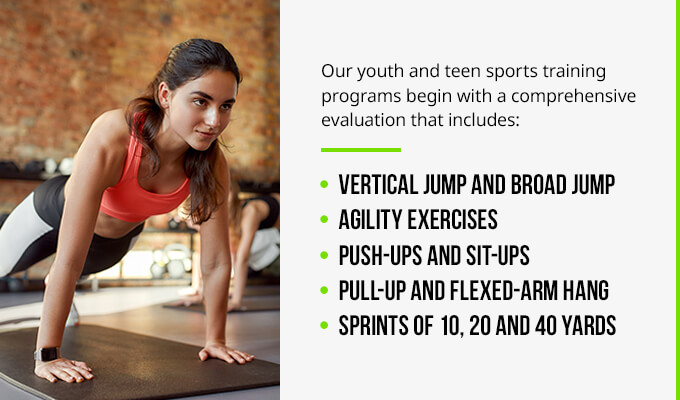 Youth and Teen Training
Another unique benefit to a large sports performance center such as Spooky Nook is the opportunities for youth and teens to access professional-level training and other sports opportunities. You don't have to be a professional athlete to reap the benefits of world-class professional training and fitness programs at Spooky Nook. We have specialized fitness programs and customized training for youth and teen athletes, too, and we are proud to be your go-to youth sports training facility in Central PA.
Our personal trainers and coaches are all either Certified Strength and Conditioning Specialists® (CSCS®) or certified by the National Academy of Sports Medicine (NASM) and have specialized training and experience to help youth and teen athletes, from age 6 and up. Our youngest athletes have specific, special needs when it comes to fitness programs and training, and our staff makes sure those needs are met.
Our youth and teen sports training programs begin with a comprehensive evaluation that includes an assessment of speed, agility and strength. This fitness assessment tests athletic performance in the following exercises:
Vertical jump and broad jump
Agility exercises
Push-ups and sit-ups
Pull-up and flexed-arm hang
Sprints of 10, 20 and 40 yards
Once these evaluations are complete, staff members can move forward with a comprehensive and individualized fitness plan. Both group and individual sessions are available to help youth and teen athletes achieve their personal best. Customized youth fitness plans will focus on either strength or speed and agility, and will include group and one-on-one training.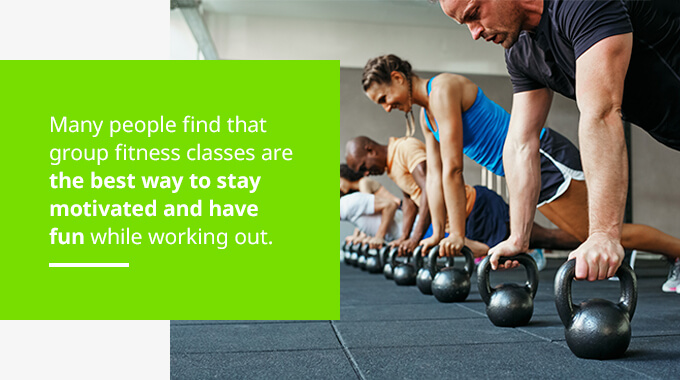 Group Fitness
Many people find that group fitness classes are the best way to stay motivated and have fun while working out. You get the benefits of having a certified, experienced trainer as a group instructor, as well as the gentle competition and camaraderie of fellow classmates of similar abilities. It's a great opportunity to explore a new fitness trend, improve your skills and meet new people, all while getting fit and meeting your health goals.
At Spooky Nook, we are proud of our wide variety of group fitness class offerings. No matter your age, interests or abilities, you're sure to find a group fitness class for you. Choose from these fitness categories:
Strength classes: Improve your strength with a wide variety of strength training classes at Spooky Nook. We are proud to offer water rowing, core workouts, BODYPUMP™, the Zone, Barre Strength and TRX-Total-Body-Resistance Exercise. All of these offerings are designed to increase your strength while having fun, no matter your fitness level.
Cardio classes: If a good cardio workout is what you need, we have just the fix, with choices like water rowing, BODYCOMBAT™, BODYATTACK™ and the Zone. You can also add in some dancing and extra fun with options like Zumba and Party Step. No matter what you choose, you're sure to find a fun workout solution that meets your cardio needs.
Mind and body classes: If more holistic fitness and mind-body balance is what you seek, we have group classes for you, too. Choose from classic Vinyasa yoga, sculpt yoga, BODYFLOW™— which mixes yoga, pilates and tai chi with athleticism — and Flow Express for a shorter version of BODYFLOW™.
Cycling classes: Choose from either 30 or 40-minute classic cycling classes, or for an added challenge, try out a hybrid cycle class or our HIIT & Hills class to really feel the burn.
Combination classes: To get in a fully balanced workout, try out a combination class like our Cycle & Flow, which combines cycling with yoga and pilates all in one class. You can make your own combo as well by pairing two back-to-back 30-minute classes of your choice. This can include water rowing, Les Mills CORE, Grit & Flow, Party Step or Barre Strength.
HIIT classes: High intensity interval training, or HIIT, is one of the hottest trends in fitness, and we have several options for HIIT-based fitness classes. Choose from GRIT™ Strength and GRIT™ Cardio, or the Zone, available in both 30 and 40-minute sessions.
Senior classes: At Spooky Nook, we have fitness opportunities for all ages, including specialized classes for seniors, designed for the unique needs of senior fitness enthusiasts. Our special SILVERSNEAKERS™ line of classes has senior options for yoga, circuit training, classic workouts and EnerChi, which incorporates tai chi and yoga. We also offer senior versions of rowing and cycling, as well as BODYPUMP™ Lite, Pound®Lite and BOOM Move/Dance Cardio. For some extra fun, try out our line dancing classes for seniors!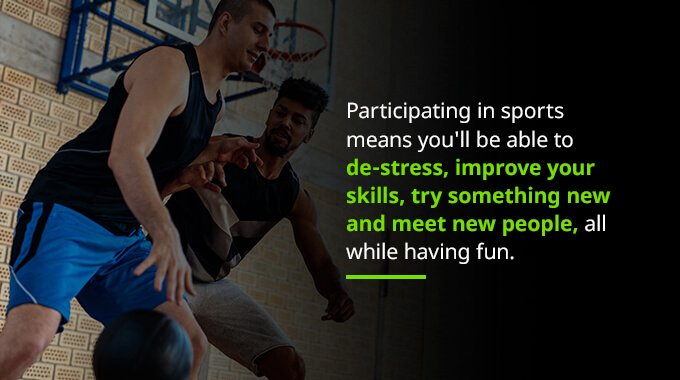 Sports Programs and Adult Rec Leagues in Central PA
Another great perk of fitness training centers is the sports programs and adult rec sports leagues available. Spooky Nook is a great place to find youth and adult recreational sports leagues of all types. Participating in these sports means you'll be able to de-stress, improve your skills, try something new and meet new people, all while having fun.
Spooky Nook offers an unparalleled adult rec experience, where you can play the sports you love, many of which offer professional officials and referees and a pleasant, supportive environment. Play your sport of choice in the comfort of our all-seasons indoor sports facilities. For adult rec leagues, we offer the following sports:
Soccer: Both co-ed and men's only
Basketball: Separate men's and women's leagues
Volleyball: Co-ed, men's and women's leagues
Ultimate frisbee: Non-contact and no referees
Flag football: Co-ed, no tackle
Dodgeball: Easy-to-play game that officials oversee
Field hockey: 6v6 gameplay — six players for each team, including the goalie, on the field at a time.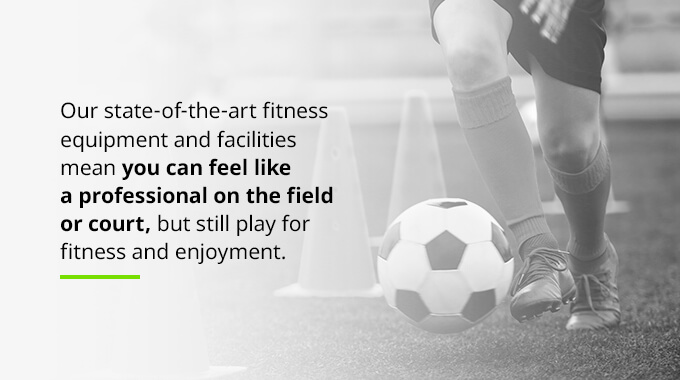 All of these leagues are available for athletes of all abilities, and team members have access to our facilities, including our fitness centers and training. Our state-of-the-art fitness equipment and facilities mean you can feel like a professional on the field or court, but still play for fitness and enjoyment.
Other sports opportunities at Spooky Nook Sports Center include:
Baseball and softball: If you love baseball, Spooky Nook is your destination for fitness and fun. We have batting cages, pitching lanes and even a full baseball field indoors with room for spectators. Whether you play baseball, softball or t-ball, we have leagues and practice facilities for you.
Gymnastics: Our gymnastics program is available for kids of all ages and abilities. Gymnastics programs can help with kids' physical, mental, emotional and social health, and it offers a fun outlet for all kids to get some exercise and express themselves.
Basketball: The Spooky Nook Fitness Center has many basketball courts available, so that youth and adult rec basketball leagues, camps, tournaments, open gyms and other training opportunities can all occur — sometimes even at the same time. No matter your fitness level or abilities, there's an opportunity for you to play basketball and work on your skills.
Lacrosse: Lacrosse is a sport anyone can get into, and we are proud to offer classes, clinics and leagues for youth girls and boys, as well as adults. This fun sport combines elements from several other sports and is great for building endurance and coordination.
Bubble ball: A new fitness trend that's all about fun is bubble ball. This sport involves inflatable balls that enclose each player, and several different games can be played with the bubbles. These games are great for team-building exercises, birthday parties or just a fun outing.
Soccer and futsal: Spooky Nook offers plenty of opportunities for all ages to participate in soccer and futsal. Both indoor and outdoor facilities are available and soccer leagues, camps and clinics provide options for all levels of soccer play and competition.
Climbing: Our rock climbing gym offers unique challenges for climbers of all levels. Activities include teams, clubs, lessons and family days.
Dodgeball: This elementary gym class classic has a new life as a fun workout opportunity. Many adults today are finding the fun and many benefits of playing dodgeball.
Ultimate frisbee: Another childhood favorite revamped, ultimate frisbee is fun for all ages. Spooky Nook has ultimate frisbee leagues — both competitive and educational.
Field hockey: The facilities at Spooky Nook allow for year-round field hockey play and has opportunities for leagues, teams, tournaments, camps and clinics.
Volleyball: Our facilities allow for both indoor court volleyball and beach volleyball, and we offer recreational volleyball leagues for adults and youth, clubs, lessons and tournaments. No matter your level of talent, you can play volleyball at Spooky Nook.
Flag football: For anyone who loves football, but wants a lower-impact way to participate, flag football is the perfect compromise. It's also an ideal way to introduce the game of football to youth in a safer way. It's a lot of fun and a great way to get a workout in.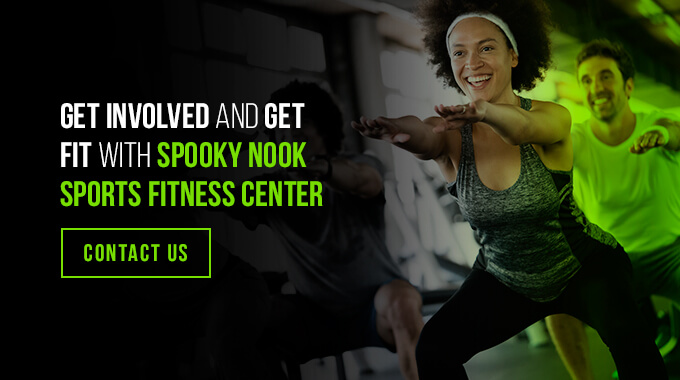 Contact Spooky Nook for More Information
If you're ready to find out how you can get involved and get fit, contact Spooky Nook Sports today. Browse our vast array of sports leagues and fitness opportunities online to find the right programs for you, your family or your team. You can also get in touch with our fitness experts for more information on our amazing programs.
We have sports and recreation opportunities for everyone, and our experts are happy to help you find your ideal fitness plan — and have fun along the way.
Subscribe to the Blog
Stay up to date