"When you get away, you get to feel normal," Caleb Walker, Founder of A Week Away, once said. At the age of 18, Walker started his battle with Stage III Anaplastic Ependymoma, a rare and aggressive form of cancer that attacks the brain and spine. A Week Away (AWA) was an idea that Walker had when he was gifted a weekend trip to Ocean City, New Jersey with his best friend. He said, "I can still remember how that weekend was one of the first times I felt like a normal person since the diagnosis." AWA provides others with the same chance.
Their Mission: A Week Away is a 501(c)(3) non- profit organization whose mission is to finance and coordinate respite weeks for individuals and their loved ones who are dealing with a life-threatening illness -- enabling them to find the peace and energy needed to continue fighting their disease.
AWA, located in Lancaster, PA, has sent families to several different destinations for respites including: Stone Harbor, OCMD, OBX, Coudersport, Virginia, Baltimore, and Lancaster. AWA funds the lodging, food, fuel and activity expenses for the respite.
"Our goal for 2015 was to assist 10 families this year, but as of today we have already made commitments to 15," Marie McCune, Vice President of AWA stated. "To date, our families have come from Pennsylvania, Virginia, Maryland, and Missouri," McCune added.
Spooky Nook Sports has had the opportunity to participate in two respites. "Spooky Nook is such a unique destination and we include it in every respite we plan for families that come to Lancaster. There is truly something for everyone and kids are in amazement when they walk in. The staff at Spooky Nook has been outstanding to work with," McCune stated.
The Yabut Family from Perkasie, PA, is the second family to come to the Nook for a respite. The first family came to the Nook around Christmas of 2014 and had such a great time that AWA decided to bring a second family to the facility and expand on the experience.
Stephen and Valerie Yabut are the proud parents of 4 children: Salem, Willow, Piper and Hudson. Salem, Willow, and Piper are triplets. While at the Nook, The Yabut Family participated in the Clip 'N Climb, went to the arcade, filled up cups with candy in the Pro Shop, ate dinner at the Forklift and Palate, and had private use of a turf field for approximately three hours, where they could play a bunch of family games like corn hole, ladder golf, and soccer.
"It was an honor to have them here, meet them, and get a chance to know them, Troy Steffy, Director of Baseball at Spooky Nook Sports said. Steffy also provided the family with Nook Baseball t-shirts.
AWA is open to anyone, not only children, battling a life threatening illness. The application for a respite can be submitted by the patient or by someone on their behalf and can be found on the AWA website.
"We love bringing families to Lancaster because we feel there is so much for them to experience. Also, our local community has been so supportive of what we do and we enjoy sending families to the local attractions and restaurants that support AWA," stated McCune.
For more information about AWA and for ways to get involved, please visit: www.aweekaway.org
A Week Away - Providing A Week of Hope & Peace to Families Battling Illness
Published
11/24/2015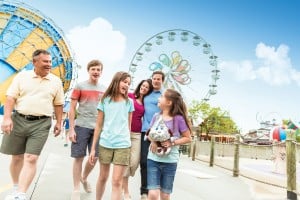 Subscribe to the Blog
Stay up to date