Spooky Nook Sports is announcing their newest addition, the Penn State Health Mamava nursing station. The Mamava nursing station will be the first of its kind in Lancaster County.
Spooky Nook Sports is central to helping families with growing children come together and lead healthy lifestyles. Penn State Health shares the same mission, which is why we saw the opportunity to support nursing mothers with a nursing station. Dr. Nicole Hackman, Pediatrician for Penn State Health, "Breastfeeding provides numerous health benefits for mothers and their babies. The nursing station will give mothers a clean, comfortable and private place to breastfeed or pump. Providing this dedicated space supports mothers and their babies to come together to breastfeed."
Kaleb Koons, Human Resource Manager for Spooky Nook Sports, "We are very excited to offer our workforce access to a Mamava station. Several temporary solutions were created over the last few years for working mothers before the delivery of our station. While these solutions met all necessary requirements, not having a dedicated space caused anxiety for the organization, and for mothers who deserved to have one less thing to worry about when returning to work after pregnancy."
Founders Christine Dodson and Sascha Mayer created Mamava in 2006 after reading an article highlighting the challenges mothers faced trying to continue breastfeeding, after returning to work. Mamava was created to make breastfeeding more accessible and positive for all mothers.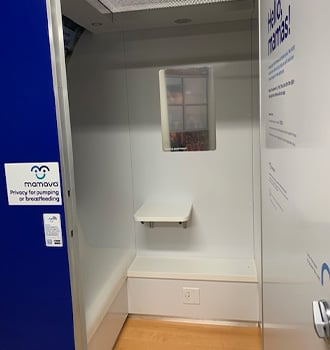 The Mamava station includes tables and benches, vents/fans, helpful signage, wipes/sanitizer and a trash can for mothers to use.
Mothers using the station will also be able to access the Mamava App. This mobile device application will allow users to:
-dim lights
-reduce airflow
-listen to sounds for letdown
-show vacancy status of stations nearby
-lock/unlock station
-interactive map that guides you to a Mamava station
-content hub to serve users with tips, breastfeeding legislation and more
We'd like to thank Penn State Health for sponsoring our Mamava nursing station. The Mamava station at The Nook will make a long-lasting impression on the mothers that work, stay and play at our facility.
---
Interested in learning more about Mamava and their initiative?
---
Subscribe to the Blog
Stay up to date