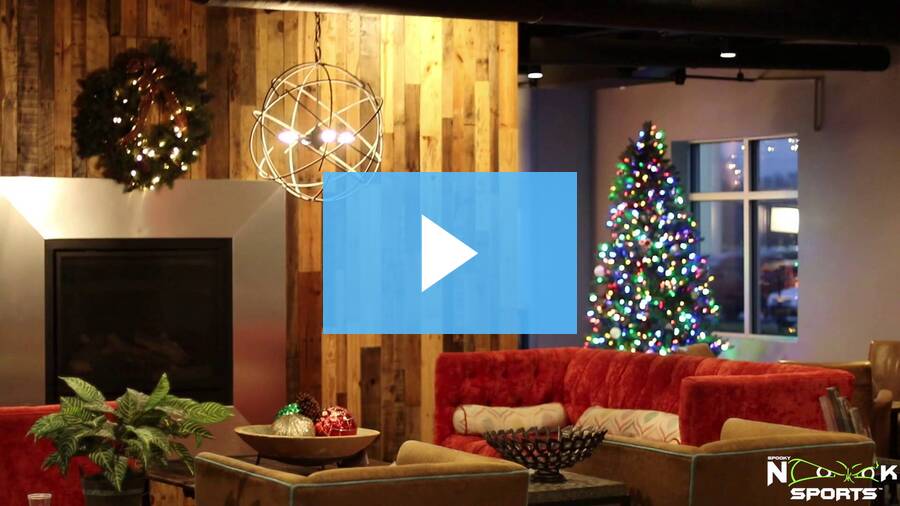 As we enter into 2020, we take a look back at 2019 and all of the things that have happened at Spooky Nook Sports.
1. Trick or Treat Night
On October 24, we held our first Trick or Treat Night at Spooky Nook Sports. This free event brought in around 4,000 people to The Nook. Over 30 local businesses and groups were vendors for this event. They had various prizes, games, and of course, candy for attendees to enjoy.

One of the attendees stated "It was a night of more than trick or treating inside! There were lots of activities to get the kids moving and playing. I will be making sure to allot more time to spend there next time!"
2. Olympic Hall Upgrades
Originally, we had planned Olympic Hall to be a go-cart track. After recognizing that there are few locations in the Lancaster area that can hold 400-900 people, we knew Olympic Hall could be used for a greater purpose.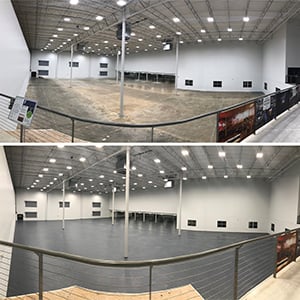 This year, Spooky Nooks Olympic Hall has been completely transformed. We have added 28' drapes to enhance the appearance of the room, five LED air stars, stage spotlights, and a state-of-the-art sound system. "The demand for Olympic Hall has continued to grow year over year especially with banquets and in the corporate market," said Danielle Work, Spooky Nook's Director of Meetings & Events. We plan to continue revamping the hall to make it more unique for our guests to use and enjoy.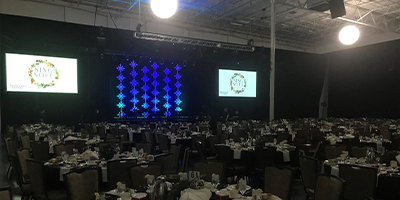 Learn more about updates to Olympic Hall by visiting Spooky Nook's Olympic Hall Flooring Gets a Makeover.
3. State of the City at Champion Mill
On October 17, the Greater Hamilton Chamber of Commerce hosted the State of the City in Hamilton, OH at Spooky Nook Sports Champion Mill. This event was a great opportunity to bring the Hamilton community together to go over some new updates on the facility.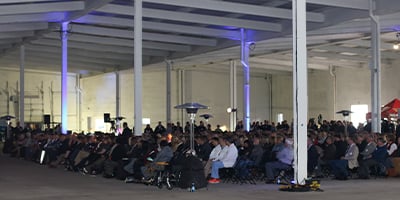 We are thrilled to see that progress continues to advance at the Spooky Nook Champion Mill facility. To learn more about the project, check out some of our features below:
4. Community Job Fair
In mid-September of 2019, Spooky Nook Sports held a Community Job Fair. Our Human Resources Manager, Kaleb Koons, explained that The Nook held the Community Job Fair because "The unemployment rate in Lancaster County continues to hover around an all time low. With less job seekers in the market, our goal was to showcase local and regional employers in one place in hopes of attracting needed talent. It became obvious due to the high number of employer registrations that many local employers are in the same difficult position of finding the talent needed to continue to drive their business goals."
Among the 70+ companies that attended the Community Job Fair, many believed it would be a great opportunity to "Connect with more people", and "Be a presence in the community".
5. A Mamava station was added to our facility
In early August, we added the Penn State Health Mamava nursing station at our facility. The Mamava nursing station is the first of its kind in Lancaster County. Spooky Nook Sports is central to helping families with growing children come together and lead healthy lifestyles. Penn State Health shares the same mission, which is why we saw the opportunity to support nursing mothers with a nursing station.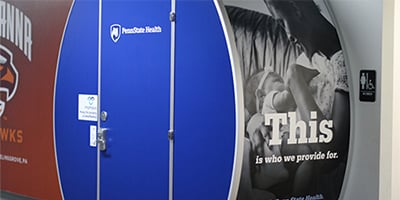 Kaleb Koons, Human Resource Manager for Spooky Nook Sports, "We are very excited to offer our workforce access to a Mamava station. Several temporary solutions were created over the last few years for working mothers before the delivery of our station. While these solutions met all necessary requirements, not having a dedicated space caused anxiety for the organization, and for mothers who deserved to have one less thing to worry about when returning to work after pregnancy." The Mamava station at The Nook includes tables and benches, vents/fans, helpful signage, wipes/sanitizer and a trash can for mothers to use.
To learn more about the Mamava station, click here.
6. Hitting 1 million visitors in July
On September 24, 2017, Spooky Nook Sports hit 1 million visitors for the first time ever. The following year, we reached 1 million visitors 10 days earlier on September 14, 2018. In 2019, we beat all past records by reaching 1 million visitors by July 14. At this rate, we will be diminishing all previous visitor records by the end of December 2019.
Spooky Nook Sports Event Services Coordinator, Jordyn Newsome, stated "We have a large group of companies that hold events at our facility every year. Their events tend to grow in size year after year because they're utilizing all of the diverse spaces The Nook has to offer."

Whether your're planning a tournament, a large, formal banquet, a small, informal business dinner or something in between, you won't need to go anywhere else to find a venue you and your guests will love. Our award-winning facility has 135 rooms, 700,000 square feet of event space.
Schedule a tour of Spooky Nook Sports today!
7. Nook Won Multiple Awards at the 2019 CPBJ Reader Rankings
At the 2019 Reader Rankings dinner, Spooky Nook Sports was awarded for being the top Health & Fitness Center, as well as Event & Meeting Facility in Central Pennsylvania. Spooky Nook Sports strives to create an unparalleled experience for all of our guests. Director of Sales & Events, Danielle Work, stated "It was incredible to be recognized for this award. We have been putting so much time and effort as a company to grow Spooky Nook Meetings & Events."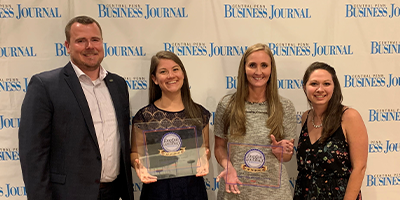 Spooky Nook was also granted four additional awards, including:
8. Acre Breaker Adventure Race
On October 26, the 5th Annual Acre Breaker Adventure Race raised the largest amount of money for the Lancaster County Young Marines. The 2019 Adventure Race also recorded having the greatest amount of participants.
To check out some photos from the Acre Breaker Adventure Race, click here.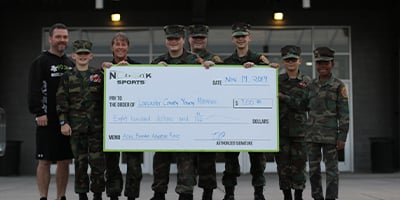 Acre Breakers at The Nook consist of 20+ obstacles and weave back and forth throughout the 30+ acre property. Our next Acre Breaker will be held on Saturday, April 11, 2020. Are you up to the challenge?
Subscribe to the Blog
Stay up to date