The Nook takes home the Building the Community honor at Central Penn Business Journal's Business of The Year Awards.
On Monday, November 6, Central Penn Business Journal held their Business of the Year Awards Dinner. This year, the award for Building the Community was presented to Spooky Nook Sports. CyndiLou Foster, Director of Sales, went up on stage to accept the award on behalf of the company.
When asked what reputation he wants The Nook to have in the local community, Founder of Spooky Nook Sports, Sam Beiler, said, "I want us to be known as someone who is consistently amazing people. Any good business can meet the expectations of their customers. I want us to exceed those expectations."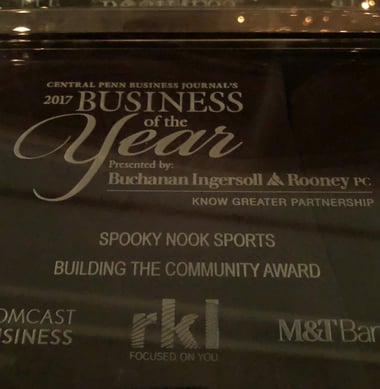 Spooky Nook Sports has a philosophy of philanthropy built into its very foundation. Its staff participates in multiple charity and community partnerships throughout the course of the year. Beiler noted, "Our team goes above and beyond to stay involved - whether it's forming a Relay for Life team, helping at iCan Bike camp, or coaching for Girls on the Run – a program that inspires girls to be joyful, healthy, and active. We also hold an Acre Breaker obstacle race multiple times a year that donates a portion of the proceeds to local charities. We just hosted Ride for Relief, an hour-long spin class designed to benefit the victims of the recent hurricanes." Spooky Nook believes in giving back and will continue to serve its community.
Thank you to Central Penn Business Journal for selecting The Nook as the recipient of this award.
For more information, contact:
Mackenzie Bender, PR & Communications Manager
Spooky Nook Sports
(717) 945-7087
Subscribe to the Blog
Stay up to date