On July 29, 2018 Nook Softball was able to bring home two national championships.
Within ten minutes of one another, we had not one - but two Nook Softball National Championship titles.
Nook 14U Elite played in the USA Softball 14U Class B Eastern Nationals in York, PA. Finishing the tournament with a weekend record of 7-1, they were crowned the champions.
I asked Head Coach, Adam Sherrick, what made this team of girls so special and enabled them to win this championship. He responded by saying, "The Nook 14U Elite team is the most resilient group I have ever encountered and they are genuinely fun people to be around. Each girl has a unique personality that they bring to the team. They each do their part to make an impact for the team and no matter what the situation they stay determined and fight through it."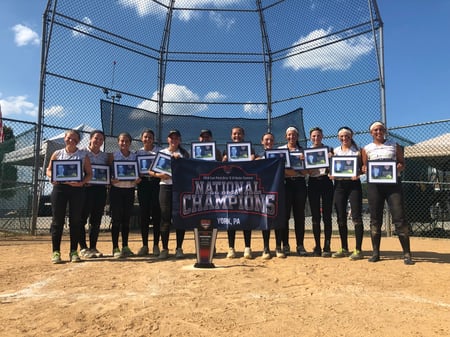 While the 14U Elite squad was dominating in York, the Nook Gold team was in Myrtle Beach doing the same thing.
Nook Gold competed in the Triple Crown Sports East Coast Nationals. Finishing the tournament with a weekend record of 9-0, they were crowned the champions.
Senior catcher, Halle Kisamore, told me that her favorite moment from the tournament would probably be, "Getting to play some different teams that we haven't played before. Having the opportunity to catch every game. Getting to switch things up line up wise and still see everyone kill the ball. Seeing everyone work together for something we've been waiting for all season. And then actually winning the whole thing was an incredible achievement for us. It was nice reaching our goal and doing it as a team without anyone giving up."
---
Check out all there is to know about Nook Softball!
Subscribe to the Blog
Stay up to date