I sat down with Christina Aulbach, the Director of Softball and Soccer/Futsal Manager, to talk about softball at The Nook, fun facts about herself, and some of her favorite things.
Q&A with Christina
Q: Tell me about your softball career.
A: I started at 8 in York (PA) playing rec ball, played travel ball at 14, and then played high school softball in Dallastown. For college, I went to play ball at St. Francis, where I played mostly infield - 3rd, 2nd, and a little 1st.
Q: What makes Nook Softball different?
A: The level of care we have for our athletes. We have a full-time director so that our coaches can focus solely on coaching. We also try not to get involved in the politics of the game. We really concentrate on the training and the process, and believe that we can create opportunities for our girls. Plus, all of our resources here at The Nook set us apart; mental training, sports performance, surfaces, etc.
Q: What advice do you have for young players?
A: Work hard. Always be willing to win the hustle game. Make every rep count in practice. Don't ever think you're too young to be a leader.
Q: What's your philosophy for the sport?
A: Practice over everything. Lots of teams just show up on gameday, don't put in a good warmup, and then expect to win. I've always preferred the girls that are hard workers. Also, just have fun. That's kind of my life philosphy in general.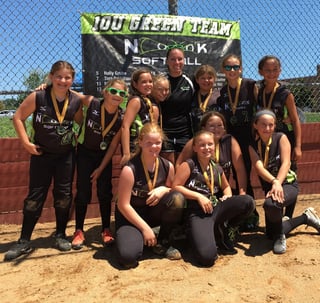 Fun Facts
Q: What's something most people don't know about you?
A: I like to dip my pizza in ketchup. Oh - and I can wiggle my ears!
Q: If you could meet a fictional character, who would you choose?
A: Genie from Aladdin. No, maybe Simba. No – Genie.
Q: If you were an animal, what would you be?
A: Dolphin, but only if I can perform in dolphin shows.
Q: What's one of the best pieces of advice you've ever gotten?
A: My pop always says "if you can't sing good, sing loud."
Q: Describe yourself in 3 words.
A: Energetic. Committed. Goofy.
Q: Describe your coaching style in 3 words.
A: Passionate. Caring. Fun.
Q: Finish this sentence. I want to be known as someone who _____________:
A: Never gave up.
Q: Finish this sentence. When people think of Nook Softball, I want them to think _____________:
A: Of excellence.
Christina's Favorites
Last show watched: Friends
Throwback jam: Cotton-Eyed Joe
Karaoke go-to: Valerie by Amy Winehouse
Sport to play other than your own: Basketball
What did you want to be when you grew up: A math teacher
Favorite holiday: Thanksgiving
Favorite food: Spaghetti and meatballs
Favorite color: Deep purple
This or that?
M&Ms or Reeses pieces? Reeses pieces
Cats or dogs? Dogs
Netflix or Hulu? Netflix
Oceans or mountains? Oceans
Batman or Superman? Superman
Morning bird or Night owl? Night owl
Cake or ice cream? Cake
Subscribe to the Blog
Stay up to date