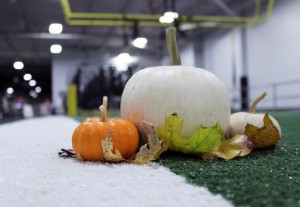 It's the time of year that is announced by pumpkin flavored coffee and holidays of overeating. Leaves will start changing colors, the air will become crisp, and layering clothing becomes necessary as temperatures drop.
Yes, the cold weather months are nearly upon us. And although that means hibernation for bears, we must not follow in their footsteps.
It's ok to change your fitness regimen; it's sometimes even inevitable. Less daylight and cold weather have a way of wearing us down, sometimes forcing our motivation levels to plummet like the thermometer.
So instead of being held captive by the cold, be sure to create new fitness goals, enjoy some seasonal flavors, and try something new!
Goals like Stepping Stones
Fitness goals during cold weather months can appear daunting and out of reach. In order to combat this effect, it's important to create a plan.
Let's face it, the cold makes it difficult enough to just get out of bed in the morning, not to mention how tough it is to hit the gym.
In order to find motivation, try setting smaller, more achievable goals. For instance, start with running on a treadmill for 30 minutes, three times a week. Or perhaps you want to increase flexibility in order to lessen stiffness and reduce join pain; one hour of yoga per week is a great place to start.
Whatever your intentions may be, these "stepping stone goals" should lead to an overall goal. By implementing more attainable objectives, you will boost your morale each time you complete one on your way to the top!
But don't stop there. In order to truly beat the cold weather blues, you will want to combine strategies.
Taste the Season
Amidst all the holiday festivities, people tend to find themselves overeating (myself included). While chowing down on Thanksgiving comes once a year, there remains plenty of healthy eating opportunities to take advantage of.
Remember, taste the season! Look for recipes that include seasonal foods, but keep it on the healthy side.
Chicken and vegetable stir fries are simple and always in season. But in the winter, you will want to use broccoli or even potatoes. But aside from that, great, cold, seasonal veggies include spinach, pumpkins, squash, brussels sprouts, chard, and leeks.
Let's not forget about kale either. Kale is a dark leafy green that is practically a superfood, filled with nutrients. It will taste great in stews!
As for fruits, apples are always great. But also look to incorporate oranges, grapefruits, clementines, kumquats, and kiwis into your diet.
And to keep things fresh and exciting…
Try Something New!
Something that is all too often overlooked: shaking things up a bit. When is the last time you went for a run without headphones, a phone around your arm, and a fitness tracker around your wrist? Are you long overdue to change your running route?
It's amazing how these simple changes can reinvigorate a run and help motivate you on frigid days. Likewise, the same principal can be applied to other forms of exercise.
Exercise can take on an entirely new form when you try a group exercise class. It really adds a social element that you won't typically get at the gym. A little bit of instruction is never a bad thing either.
You can also look at joining a recreational sports league. Becoming part of a team will give you extra incentive to get up and get out.
And if a sport doesn't appeal to you, just find a reason to go outside and play. Rustle up the kids and have a snowball fight, build a snowman, take the dog out, or rake the leaves. Each of these activities will give you a good aerobic workout.
On top of a workout plan, eating healthy seasonal cuisine, and finding new ways to remain active….
Enjoy What You Love
That's right, enjoy what you love about the season. Fighting off the blues by sitting on the couch throughout fall and winter is not going to work.
So be sure to motivate yourself to workout by rewarding yourself with a pumpkin spice coffee, pumpkin carving, a visit to a new Lancaster café, or spending time with the family.
If you prefer sitting by the fire with a good book, set aside time to do that after a morning workout and a long day at work. Remaining well rounded and doing the things you love will keep you upbeat and have you enjoying the cooler weather.
And if you find yourself in a slump on the coldest day of the year, remember, winter blues can be fought with healthy winter stews!
Please, enjoy our Fall Homemade Salad recipe, courtesy of Fernando Garcia-Aguila, Executive Chef at Spooky Nook Sports.
Ingredients
Candied Pecans
2 tablespoons unsalted butter
2 tablespoons packed light brown sugar
½ cup raw pecans
Maple-Balsamic Dressing
1 small shallot, finely diced
1 teaspoon Dijon mustard
2 teaspoons balsamic vinegar
¼ cup extra-virgin olive oil
2 teaspoons maple syrup
Kosher salt and freshly ground black pepper
1 head of purple chop endive
2 hearts of clean frisee lettuce
1 large radicchio, torn leaves
3 ripe figs or slice of fresh apple
¼ cup shaved parmesan or creamy blue cheese
Directions
To make the candied pecans, set a nonstick pan over medium heat. Add the butter and sugar and once it has melted, toss in the pecans and continue to toss to coat and cook evenly, about one minute. Transfer to a sheet tray lined with waxed paper (use two forks to separate pecans) while you prepare the salad.
Make the dressing by combining the chopped shallot, Dijon and balsamic vinegar in a large mixing bowl. Slowly drizzle in the olive oil while you whisk to emulsify. Add the maple syrup and season to taste with salt and pepper.
Make the salad by tossing greens and fig slices in a large mixing bowl with maple-balsamic dressing. Top with shaved parmesan or blue cheese and candied pecans.
Subscribe to the Blog
Stay up to date