This past Wednesday, October 24, Hamilton, OH City Council voted unanimously 7-0 in favor of the development agreements with Spooky Nook Sports. A ceremonial groundbreaking took place on Thursday, October 25.
Once completed, Spooky Nook Champion Mill will be the second largest convention center space in the Tri-State area and the largest indoor sports complex in North America.
The adaptive reuse of the former Champion Paper Mill has been at the forefront of most Hamiltonians' minds since the Mill began to shed operations in the early 2000s. For many, jobs at Champion Paper Mill brought their families to settle in Hamilton, and in some cases it employed multiple generations of family members during its 100+ years of operation. The challenge of reactivating a 40+ acre brownfield site while honoring its rich history has not been without its challenges. Through many collaborations and partnerships, including a $4.7 million Ohio Historic Preservation Tax Credit grant, and other creative funding sources, the project is now shovel-ready.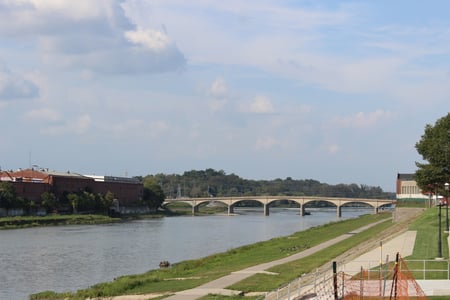 "Spooky Nook Sports is excited to officially begin visible work in Hamilton," said Sam Beiler, founder of Spooky Nook Sports. "More than three years of strong support from many community leaders and a service-oriented team at City Hall have enabled us to reach this incredible milestone."
Spooky Nook positions Hamilton to attract and grow the Tri-State's billion dollar tourism industry. In 2017, Spooky Nook's Pennsylvania location welcomed more than one million visitors. According to a report by Tourism Economics, this traffic brought an additional $39 million in off-site spending to the surrounding business community in 2017 alone.
It is expected that the business community surrounding future Hamilton location will see similar impacts. While many Hamilton businesses are expected to benefit from the extra tourism Spooky Nook will generate, this development will also bring amenities to enhance the lives of residents across the region. In addition to accessibility of innovative health and wellness programs, the development will likely spur additional hospitality-oriented business investments such as new restaurants, retailers, and other entertainment options.
"The City of Hamilton is proud to be one of many community organizations partnering to help make Spooky Nook Champion Mill a reality," said City Manager Joshua Smith. "This facility will be an asset to the community for many generations to come."
Media Contacts:
Joshua Smith, City of Hamilton - (513) 785-7002
Mackenzie Bender, Spooky Nook Sports - (717) 618-8586
###
Subscribe to the Blog
Stay up to date