From August 10 through August 15, Spooky Nook Baseball hosted the Bluesox Academy from Shenzhen, China.
Coach James Lin traveled with 10 young athletes, all 10 years of age or younger, all the way to Spooky Nook Sports to train. During their stay, the group went sightseeing, played in two baseball games with our Nook team, and experienced what it's like to train in America.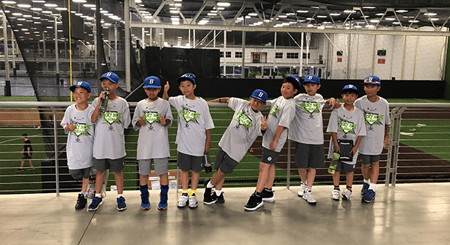 Nook Baseball Director, Troy Steffy, said, "It was really cool watching the kids interact with each other and seeing the Bluesox develop while they were here. I can foresee recreating this experience for other international teams."
In total, it was a 6-day, 5-night stay for the team - all of which took place at The Nook and Warehouse Hotel.
Below is James Lin's full testimonial regarding this experience.
"'Are we in another World?' one of the young 8 year old player from our team, Bluesox Academy from Shenzhen China, asked me once we arrived the gigantic Spooky Nook Sports Complex. This perfectly described how mind-blowing it is that Spooky Nooks Complex impress the young players and even coaches. I will still be amazed every time I walk in. It is literally a Disney World for sports lovers. An awesome facility with anything you need about sports is just one of the key element of a success baseball camp with international players.
More importantly, Troy is the man that makes this stay a forever dream memory for all our players. Troy is super nice and close to the young talents we have. He is just like a uncle lives next door. Troy tailored every single baseball drill and sports conditioning based on the skills and experience of our players. From the agenda to training schedule design, you can tell Troy is the PRO. The 10U team that Troy has is also super friendly and always eager to teach our players and share experience. When their parents are cheering and clapping for our players, that is exactly what this event means to do - building the culture bridge between the two biggest nations among the youth generation.
Besides baseball training, Troy has also arranged special surprise for our players. Our players had the honor to run on the filed of the Lancaster Barnstormers and stood by the side of each position players for the national anthem. You can't imagine how this will inspire all kids forever. This is the first summer camp that Bluesox and Spooky Nook has worked together and it perfectly defines 'The Best Summer of Baseball' for our kids. We will come back with more players and coaches from China every year, no doubt!"
Nook Baseball would like to thank the Bluesox organization for making this trip and being such incredible guests.
To learn more about Spooky Nook Baseball and all that they have to offer, click the button below.
Subscribe to the Blog
Stay up to date