Players in the world's most popular sport are preparing to take soccer's biggest stage in 2022 — the FIFA World Cup. The top 32 soccer teams representing nations worldwide will compete for glory this fall, so it's an exciting time to be a soccer fan! It's also the perfect opportunity to get caught up. Whether you need a refresher or are checking out the World Cup for the first time this year, you can find everything you need to know below.
When Is the 2022 World Cup?
The World Cup only happens once every four years, so mark the important dates on your calendar! The 2022 World Cup will take place between November 21 and December 18.
The tournament kicks off with group play until December 2.
After group play, the top teams will move on to the Round of 16 on December 3.
Quarterfinals will begin on December 9, with semi-finals between December 13 and 14.
The World Cup final will take place on Sunday, December 18, at 10 a.m. EST.
Where Will the 2022 World Cup Take Place?
2022's World Cup will take place in Qatar — the smallest nation by area to ever host the tournament. 2022 is also the first time the World Cup will happen in the Arab League. The tournament will take place in eight venues across Qatar, with the 47,500-seat Lusail Stadium holding the championship match.
Which Teams Will Play in the 2022 World Cup?
There are 32 teams in the 2022 World Cup split into eight groups:
Group A: Ecuador, Netherlands, Qatar and Senegal
Group B: England, Iran, the United States and Wales
Group C: Argentina, Mexico, Poland and Saudi Arabia
Group D: Australia, Denmark, France and Tunisia
Group E: Costa Rica, Germany, Japan and Spain
Group F: Belgium, Canada, Croatia and Morocco
Group G: Brazil, Cameroon, Serbia and Switzerland
Group H: Ghana, Korea Republic, Portugal and Uruguay
Who Are the Favorites to Win It All?
As of July 2022, Vegas Insider's World Cup favorite is Brazil, with +450 of winning the tournament. England is the second favorite at +550 while France is close behind at +600. The U.S. is around the middle of the pack with +10,000 odds after failing to qualify for the tournament in 2018.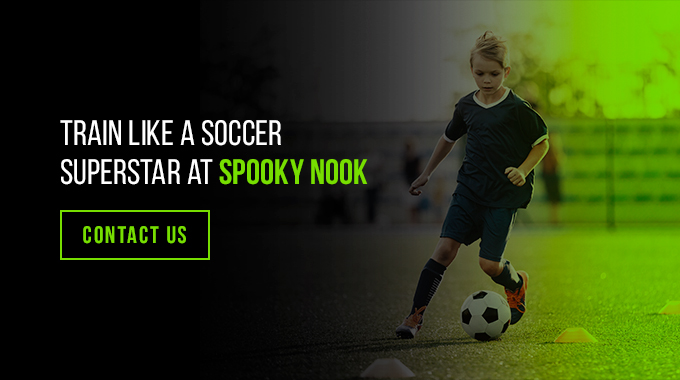 Train Like a Soccer Superstar at Spooky Nook
Does the upcoming FIFA World Cup have you itching to hit the field? Spooky Nook Sports has a world-class athletic training facility in Manheim, Pennsylvania, with everything you need to train like the pros. Plus, there are plenty of youth and adult soccer leagues where you can make friends and test your skills. Please get in touch for more on our soccer leagues or gym memberships.
Subscribe to the Blog
Stay up to date