Every summer, The Nook opens its doors to a wide variety of summer camps. From adventure camps that take kids kayaking and rock climbing, to recreational camps that introduce kids to a variety of sports and games – there's something here for every type of camper.
"Our camps are awesome and very unique because we have all of the fun under one roof," said Andrea Konas, the Director of Youth Programming at The Nook. "The kids get a full range of experience when they're here at Nook camps."
Nook Summer Camps are special for a lot of reasons, but some of the main benefits are:
Curbside drop-off. Every morning of camp, one of our staffers sits outside the main doors to check kids in. This makes for a quick and easy arrival for every camper.
Variety of camps. At The Nook, there's something for everyone. Whether it's a camp all about one specific sport, or a camp that tries a little bit of everything, we have options to please all of our campers.
Experienced staff. Our Nook camp stuff is one of a kind. They show up every day ready and excited to make sure every camper has a positive experience.
We believe that the number one thing that makes our camps so great is our Director, Andrea. Bringing years of experience to the table, Andrea goes above and beyond to ensure every camper has a positive, safe, and energetic camp experience.
Kiki Davis, a parent of one of our campers, said, "Andrea is the best! Mature beyond her years with a real understanding and compassion for kids of all ages. She is open to suggestion and is concerned about each campers experience, making sure that her staff follows the same expectations she has; that kids are safe, engaged, and having fun."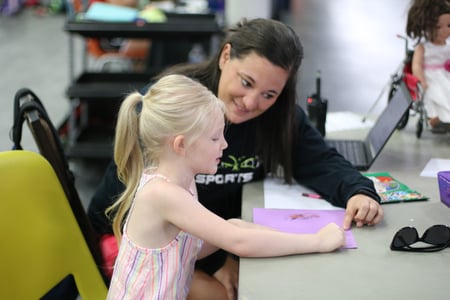 "Working for Andrea is a really good experience," said Camp Counselor, Rachel. "She's really cool, understanding, and she teaches us so much with camp that will really help us in the future as counselors."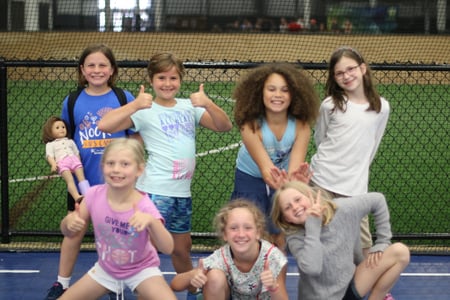 Staci Chamberlain, the Director of Athletic Operations at Spooky Nook, works with Andrea very closely on Youth Programming throughout the year. When I asked Staci what makes Nook camps so special, she was quick to acknowledge the time and effort that Andrea puts into them as a main factor. "Andrea exudes joy – staff and campers can feel it radiating off of her. When you have a leader who has that kind of passion for life and for her work, great things happen! Her energy inspires her team and our campers to do their best, in any situation they are in. I am so grateful to have her on my team, she truly makes the Nook a better place."
We still have openings for our remaining camps this summer. If you have yet to experience them, this is your chance! Check out all of the camps that The Nook has to offer. You won't regret it.
Subscribe to the Blog
Stay up to date