If you plan on attending a job fair, but have no idea how to prepare, don't fret! Here are some great tips to help you achieve success at any job fair:
Dress to impress
You only get one first impression, so make it count! Business attire is a safe option to wear during a job fair or interview. Remember, it's always better to be over-dressed than under-dressed.
Create a 20 – 30 second "elevator pitch" about yourself
An elevator pitch is used to summarize your talents and career interests. Start off with some basic information, such as, your name, major and graduation year. Next, briefly explain any past-experiences, future goals and current skills. Employers will be talking to hundreds of possible employees, so make your pitch unique.
Research information about companies you're interested in
Make yourself a list of companies you are interested in speaking with. Do some light research on each company and prepare a few questions to ask the recruiter. This will show a company you are interested in learning more about them.
Bring a few copies of your resume
Print out a copy of your resume for each company you plan on speaking to. Bring a few extra copies, in case any other companies peak your interest while you're at the fair.
Give firm handshakes and good eye contact
The first thing you should do when meet a recruiter will be to shake their hand. As the conversation progresses, maintain good eye contact and smile! Make your body language display your interest in the conversation and their company.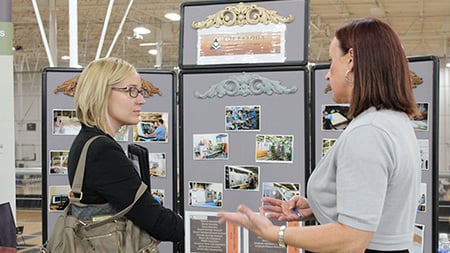 Ask questions
You're giving employers a better sense of your qualifications and interests by asking them questions. Here are a few questions you could ask employers at your next job fair.
Follow up with the companies you spoke with
After the job fair, send a thank-you email to each company you spoke with. Within the email, restate your elevator pitch, summarize important points from your discussion with the employer and reattach your resume.
---
Spooky Nook Sports is holding a Community Job Fair on September 24, 2019. If you are interested in attending, RSVP here.
---
Subscribe to the Blog
Stay up to date