Everyone has heard that 'breakfast is the most important meal of the day'. We should be taking that opportunity to start our day off on a healthy note - and here are 5 quick tips on how to do just that.
1. DON'T SKIP BREAKFAST:
The best advice for starting your day with a good breakfast... is to have breakfast! Eating a good breakfast in the morning jump-starts your metabolism and helps improve things like mood and brain function.
A Healthy Breakfast Leads To A Healthy Lifestyle
2. HYDRATE:
If you're like me and have more than one cup of coffee per day, it can actually start to dehydrate you. Make sure you're mixing in water throughout your day to maintain your energy and overall body health.
3. TRY NEW RECIPES:
We're creatures of habit. Once we get stuck doing something a certain way, it's easy to just keep doing it that way. Trying new and healthy recipes is a great way to get yourself excited about breakfast again. I added crab meat, fresh cilantro, a fried egg, and tomatoes to this avocado toast to take my breakfast up a notch (ignore the paper plate).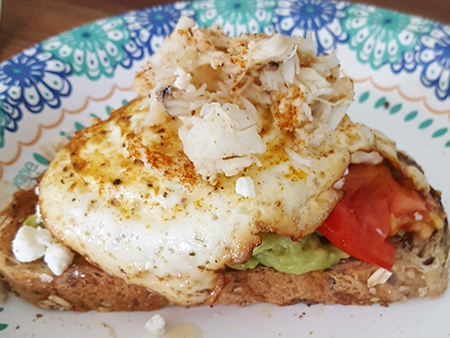 5 Healthy and Easy Recipes To Try This Month
4. STICK TO NATURAL SUGAR:
If you have a bit of a sweet tooth, try adding naturally sweet fruits to your breakfast. Berries (strawberries, raspberries, and blackberries) are some of the fruits highest in natural sugars.
5. EXPERIMENT WITH ALTERNATIVES:
There might be something you eat for breakfast a lot that has a healthier alternative that you could substitute without much change in taste. Love bacon? Try turkey bacon - you might just love it!
---
To learn more about nutrition and healthy eating with our Sports Performance Team, check them out here!
Subscribe to the Blog
Stay up to date