While construction to Spooky Nook Sports Champion Mill location is still underway, the hiring process has officially begun. We are so excited to bring more jobs to the Hamilton, Ohio area, and support the surrounding community.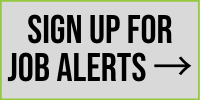 "I am beyond excited to move into the phase of the project that is building the team that will make our business successful," stated Jim Launer, President of Spooky Nook Sports. "Our overall success begins and ends with the staff. We feel the City of Hamilton and the surrounding areas are full of great people that will be an asset to our organization."
Director of hospitality
The first hire for this location is Director of Hospitality, Lisa Disbro.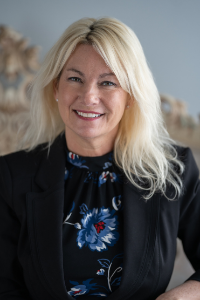 Lisa brings 28 years of hospitality management to the Spooky Nook project, with experience in the convention, sports, corporate, trade show, and social markets.
She spent 22 years with the Hilton brand, primarily in the Northern Kentucky/downtown Cincinnati convention market. A leader in the hotel industry, Lisa was recognized with sales and leadership
awards in her previous roles. She is a Hamilton native, and began her hospitality career as a Sales Manager at the Hamiltonian Hotel (now the Courtyard) in 1991.
"I am so excited to join the Spooky Nook Sports team, and draw large conferences and sporting events into Hamilton and Butler County. The recent improvements throughout Hamilton are so impressive, and the new Spooky Nook facility will be an incredible addition to that landscape. There will be so many new opportunities – both for area residents, as well as the many out of town guests who visit the complex", Lisa said.
Spooky Nook Sports Champion Mill has been in the works for a number of years, but with the hiring process officially underway it suddenly feels right around the corner. This complex coming to Hamilton has been described an 'economic nuclear explosion'. With an estimated $144 million in direct and indirect impact, having the right team in place to get things off the ground is now a major priority.
Director of facility operations
The second hire made at Champion Mill was for the Director of Facility Operations, Matt Lengel.
Lengel started training at The Nook in PA going into his last year of college at Eastern Kentucky University, where he played in 37 games and registered 33 receptions for 361 yards. After his graduation from Eastern Kentucky, he continued to train and complete his Combine Prep at The Nook. During the NFL off-seasons, he continues to train with President Jim Launer and various other professional athletes.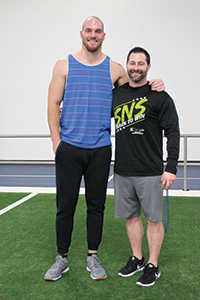 Lengel entered the NFL at the age of 24 as a rookie free agent and was signed to the Cincinnati Bengals practice squad in May of 2015. Lengel grew up in Mechanicsburg, PA and played varsity football at Cumberland Valley High School for two years.
Upon signing with the NFL's New England Patriots in 2016, Lengel was quoted as saying, "Training at The Nook has helped me overcome injury faster and helped me develop great relationships with athletes from different sports. The facility is incredible and it is impossible to not get better here. It's the total package - training, food, and still areas for fun!"
After his Super Bowl win in 2017, Lengel sat down with our team to discuss the victory and his history with The Nook. You can watch that interview here →.
The Nook is enthusiastic about the creation of new opportunities that will provide to the surrounding community for people of all ages and experience.
Kaleb Koons, Corporate Director of Human Resources, said, "I have talked to community leaders who are excited for the youth of Hamilton to have a unique and exciting first job experience."
"I have also talked to citizens in Hamilton who worked, or had family work, in the paper mill for the majority of, or their entire career. That shows us there are very dedicated and hard working people in Hamilton and we will need those qualities and people to make our operation successful."
Spooky Nook itself is built on hard work and dedication. Success comes from perseverance and commitment and we are always looking to add more people who embody these traits to our team. If you're interested in receiving job alerts for newly posted positions, follow the below steps.
How to sign up for job alerts:
Go to our website's hiring page and click the 'Ohio Careers' button.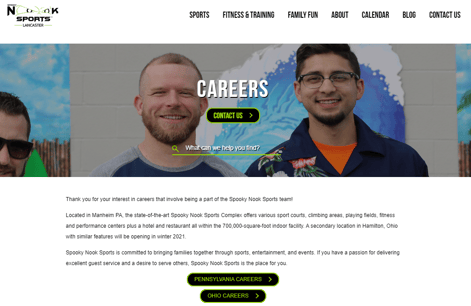 At the top of the page, click the 'Activate job alerts for this search'.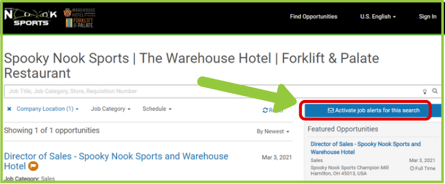 Complete the form with your information and hit 'Register' at the bottom of the page.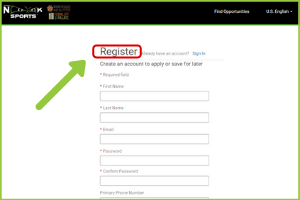 Subscribe to the Blog
Stay up to date