The Greater Hamilton Chamber of Commerce is excited to host State of the City 2019. Hamilton's Mayor, Pat Moeller and City Manager, Joshua Smith, will present the State of the City Address on October 17 at 5:30 p.m. The event will be held at Spooky Nook Sports Champion Mill (North B St. & Rhea Avenue). Spooky Nook staff attending will be available to answer questions after the presentation. The program will be followed by an after party with music. Each attendee will take a piece of "Champion history" home with them (limited supply by registration).
Local restaurants, old and new, will be featured by serving heavy hors d'oeuvres. There will be a cash bar available with Municipal Brew Works on tap. The cost is $25 per Chamber member and $30 for general public.
Hamilton, Ohio Residents Visit Spooky Nook Sports
In mid-March of 2019, a group of 31 residents from Hamilton, Ohio made the trip to Lancaster, to see Spooky Nook Sports. After seeing the facility, the residents are very excited for the future of Champion Mill.
Director of Strategy & Information for the City of Hamilton, Brandon Saurber, stated "I'm excited for the economic multiplier effect of this facility within an urban environment and how that's going to impact the community at large, and the existing small businesses".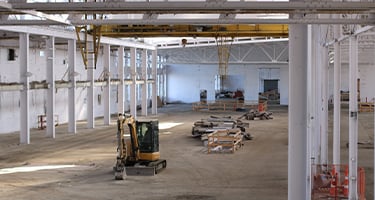 On top of creating opportunities for small businesses, Champion Mill will offer hundreds of jobs to people in the Hamilton community.
Chef/Owner of Tano's Bistro, Gaetano Williams, believes "Spooky Nook has a lot of different moving wheels that are going to greatly affect the Hamilton community".

We are thrilled to see that progress continues to advance at the Spooky Nook Champion Mill facility. To learn more about the project, check out some of our features below:
Spooky Nook Sports, Lancaster

The Nook's founder and CEO, Sam Beiler, spent 21 years of his professional career at Auntie Anne's, Inc. - the world's largest hand-rolled soft pretzel franchiser. Sam steered Auntie Anne's through a major rebranding initiative, and set a defined mission of innovation, from its award-winning franchisee system and international expansion model, to its new product advances and dedicated customer service focus for franchisees.
In November of 2010, Sam sold Auntie Anne's and made the decision to retire - but it would prove a short retirement.
In June of 2013, Beiler opened Spooky Nook Sports, the largest indoor sports complex in North America. The Nook offers an entire meetings and events business on top of unrivaled sports and recreation activities, state-of-the-art fields and courts, dynamic programming, and a friendly, professional staff. The complex is a true embodiment of Beiler's mission to create a fun and well-structured platform for the whole family to play, train, and compete.

Sam's goal was to re-purpose existing facilities to preserve historic features where possible and generate construction and contractor opportunities.
Sam began a search for an existing building suitable for sports and activities in Lancaster County, to create a family-centric sports, entertainment and events venue. In December 2011, he formed Spooky Nook Sports, Inc. and purchased a vacant 594,000 square foot warehouse which was previously utilized as a flooring distribution center for Armstrong World Industries, Inc. Situated on 62 acres in Manheim, Pennsylvania, the building was nearly twice the size of the next largest indoor sports complex in the country. The Company owes its name to its location on Spooky Nook Road and is nicknamed, "The Nook".

As the largest and most innovative indoor sports complex in the country, Spooky Nook Sports, located just outside of Lancaster, Pennsylvania, is the ultimate destination for families, athletes and businesses. With more than 700,000 square feet under one roof and over 50 acres of outdoor facilities, the Nook Sports facility has the unique capacity to simultaneously host clubs, leagues, tournaments and championship events throughout every season.
Our indoor facilities include 10 hardwood basketball courts, four field hockey courts, 10 volleyball courts, and six soccer fields, as well as a 200-meter indoor track and a full-sized baseball infield. The Nook also encompasses a fitness center, a climbing center, numerous meeting and party spaces, a food court and arcade, and much, much more. Every consideration has been taken to create an unparalleled experience for our guests.
---
To attend the State of the City Address on October 17, 2019, please click the link below.
Subscribe to the Blog
Stay up to date