What can you learn from watching softball on TV?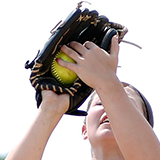 How to Watch and Learn
It's that time of year again! If a softball enthusiast turns on ESPN, SEC Network, Big10 Network, or any other sports channel on a weekend afternoon or evening in the late spring, it is likely that she will stumble across a college softball game. Athletes, coaches, and even parents can all learn a lot from watching elite athletes and coaches during these games. During this time of year, teams are competing in heated conference playoff races where every pitch and every hit counts just as much as the next.
As an academy focused around the training of athletes and coaches, Nook Softball encourages everyone to try to catch a game on TV every now and then. While turning on the TV is step one, it definitely helps to know what you are watching. Here are a few tips to help athletes understand how they can emulate the athletes they see on TV. We have also included some notes about what coaches and parents can learn from watching college softball.
For the Athlete
• Notice how college players hustle everywhere they go. Did you see the pitcher walk to the mound between innings or a girl jog down to first base on a ground ball to the short stop? No. Did you see every fielder (even the outfielders) moving on every single pitch? Yes, we saw that too. No one is a spectator in a high level softball game. All players are involved in every single play. Everyone has a role, even the athlete in the dugout whose job is to stay ready and keep the energy level up.
• Notice the importance of bunting. This is a skill that girls may not always take seriously, however, it can be the most important tool in a tie game with a runner on first and zero outs in the seventh inning. Bunting effectively is a game changer.
• See the emotional control when something bad happens. Notice the girl who strikes out or a pitcher who has given up a home-run. Notice how she reacts when the cameras are all on her. She does not show any emotion on her face or throw a tantrum. This kind of emotional control takes great maturity. One of the first things taught to college freshmen softball batters is that after a strikeout you will hold your head high and hustle back to the dugout. Teams need their athletes to stay positive and be in control of the situation so that they can come through the next time they are up to bat or throw a pitch. Tip: College coaches look for emotional control when they are recruiting athletes.
• Being able to dive and come up with that ball in the hole, throw on the run with pin point accuracy, or power slap a ball down the line for a triple does not happen overnight. College athletes put in hours of work on each individual skill for the chance that it might come up during a game. Games do not perfect skill, practice does, which is one of the reasons why training at a young age is much more important than the number of tournaments a team attends. A girl may touch a ball 200 times in practice but only have 5 touches or less in game innings.
For the Coach
• Notice how coaches interact with umpires. Coaches understand that a relationship with umpires is very important. They stay cordial and do not usually get too heated over calls. If they have a question about a call that was made, they know that it is in their best interest to stay calm and have a conversation with the umpire, rather than blowing up in the umpire's face. They also never argue balls and strikes.
• Notice how coaches interact with their athletes. Their communication is mostly positive and conversational. The idea is to keep athletes from over-thinking so that they can execute what they work on in practice.
• They save the instruction for practice time. The focus of game time is execution. Coaches may come back to key words to remind girls of mechanics, but overall coaches do not instruct during the game. They are using their energy to analyze the game and react to what is happening with their team and their opponents.
For the Parent (a lot of this cannot be seen on TV)
• Support, support, and more support! Often the announcers will pick out a set of parents in the crowd and tell a story about how they traveled across the country to surprise their daughter and watch her play in a college softball games. They are genuinely happy and excited just to watch their child play the sport she loves.
• Parent interaction with coaches at the college level is very respectful. College coaches generally do not allow parents to talk to them about playing time or to criticize their practice/game strategies.
• Because coaches are serious 99% of the time at the college level, the parents' main job is to positively encourage their athlete and the team. This job is essential during the many highs and lows of a college softball season.
• Girls are around softball so much and already put so much pressure on themselves that sometimes a refreshing positive word or break from softball is the most valuable thing a parent can give.