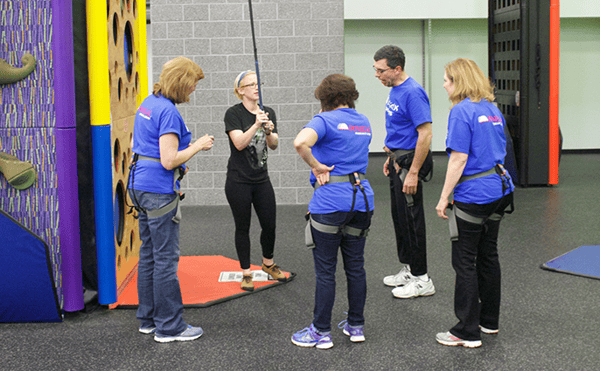 Backyard Games
Clip 'N Climb
Dodgeball
Kickball
Basketball
Baseball, Softball, and Wiffleball
Ultimate Frisbee
Giant Jenga
While the list provided above is impressive, it's only a sample of the team-building activities you'll find. To learn more about our team building activities, contact Spooky Nook Sports now or click here to see some examples.
Now Is the Best Time for Corporate Team Building
During the past two years, many companies moved to remote and hybrid work arrangements. While this change was necessary, healthy, and productive, it made forging co-worker relationships more challenging within plenty of organizations. Many people have difficulty feeling close to their colleagues when they can't see them from day-to-day.
The solution isn't for your company to reduce telecommuting opportunities, but to fold team-building activities into the mix. When you regularly bring all your people together in one place, you can enjoy the benefits of team building:
Trust: Workers who trust each other have an easier time talking through problems and coming up with innovative solutions. You can foster moments of trust and confidence between members of your crew by creating opportunities for them to interact in new ways at Spooky Nook Sports.
Commonality: Having a shared experience with someone immediately makes you feel closer to that person. Imagine if your entire organization or department had unique adventures a few times annually. Being able to engage outside the workplace fuels new connections and levels the playing field between executives and employees.
Empowerment: One of the most exciting aspects of any coordinated team-building activity is uncovering the raw talents of all participants. Maybe you didn't realize that your chief financial officer was a natural at dodgeball, or that your newest IT member could win gold if there were a Giant Jenga Olympics. Team-building activities will shine a light on these skills, empowering employees and giving everyone plenty to talk about.
Entertainment: After months of virtual meetings, everyone's feeling a little fatigued when it comes to connecting on technological devices. Get all your people moving again with some physical activities appropriate for everyone. We make sure that all our corporate team-building sessions can accommodate all skill levels and abilities for fun, in-person entertainment.
Onboarding: Did you hire some employees recently? Help them bond quickly with their colleagues through team-building activities. We'll help you plan each session so you can get the most out of every moment.
Client development: Why limit corporate team building to the people in your workplace? Consider extending an invitation to your most loyal clients, too. You'll be able to forge stronger bonds with the customers you serve so you can better understand their needs.
Ready to take advantage of the benefits of team building? Call Spooky Nook Sports to schedule your next event!
Amenities at Spooky Nook Sports
We know it can take a while to build trust and confidence between team members. Luckily, our campus can accommodate your team with ease if you want to schedule several days of team-building activities. As they participate in team-building, your team can refuel at our food court or smoothie bar. You can also schedule group meals at our onsite restaurant Forklift & Palate, where your team will feast on modern American food.
You can further enrich the bonds between your team's members by making arrangements for them to stay overnight at The Warehouse Hotel. With your team staying at the hotel that's on our campus, they can spend time together instead of driving to and from our location. This extra time that your team spends together can deepen their relationships and increase the confidence they have in each other.
Make a Reservation at Spooky Nook Sports
No matter how big or small your team is, we have team-building activities near Harrisburg, PA designed to bring your whole team together. Your team will work together to win when you make a reservation for team-building activities at Spooky Nook Sports.
To learn more about how our team-building activities can benefit your team, give us a call or stop by our convenient location today. We'll discuss your goals with you and help you pick the activities that will bring your team together successfully. Contact Spooky Nook Sports for more information now.