---
TEAM BUILDING


"...If you are looking for something to do with a large group I totally say you should at least try this once!"
Full Review
You'll find a generous menu of activities that can bring your team together at Spooky Nook Sports, the largest indoor sports complex in the United States. We make team building fun and rewarding. You and your group can participate in just one activity or you can make arrangements for your group to participate in several fun-filled activities.
Request More Information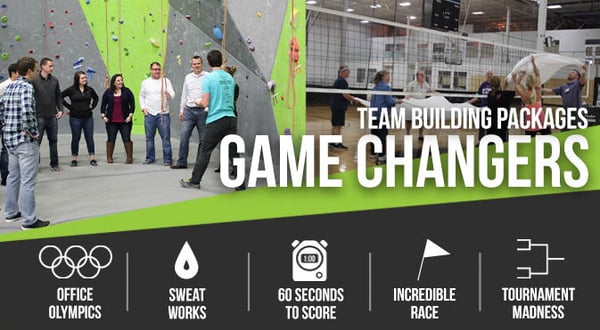 Our Facilities
Businesses looking for a venue that can accommodate any size of meeting or event can count on Spooky Nook for corporate meeting space in central PA. Our facility features event spaces like private rooms, banquet halls, sports arenas and more, enabling us to host up to 10,000 guests at once. Spooky Nook has everything your business needs — view our campus maps to see for yourself.
Meeting Areas
Spooky Nook has multiple indoor locations for organizations to host company-wide meetings or separate into smaller breakout sessions.
Meeting rooms: Our business meeting rooms are perfect for small groups but feature the flexibility to accommodate up to 500 people. These spaces contain all the audio, visual and lighting equipment businesses need for effective meetings, so book a meeting room for your next gathering.
Meeting spaces: Businesses hosting larger events can book our flexible meeting spaces that comfortably seat between 400 and 5,000 attendees. Meeting spaces are large enough to incorporate stages, buffet stations and other amenities into your meeting.
Request More Information
Banquet Rooms
If your company needs a space to host a large-scale dinner, our banquet rooms can accommodate between 50 and 1,000 guests. Spooky Nook's banquet rooms feature elegant, formal decor and high-quality sound equipment to make your corporate dinner a success. We'll coordinate with you to customize our banquet rooms around your needs and match any theme.
Dining Options
When your book one of our corporate meeting facilities, you'll have the choice between a variety of on-site dining options. We offer catering services from our banquet staff and executive staff who will work with your to develop a menu tailored to your party. From multi-course meals to tasty hors d'oeuvres, our kitchen staff will use fresh, locally sourced ingredients to make delicious dishes the whole company will enjoy.
If catering isn't in the plans, head over to our on-site restaurant, Forklift & Palate, for delicious American cuisine, or try selections from our food court and smoothie bar.
Hotel Stay
If you're staying in town for a week of meetings or you need a place to put your staff up for the night, book a room at the Warehouse Hotel right on campus. This chic, modern lodge features 135 rooms where you can stay for the night or all week long. With a comfortable place to recharge after a long day of meetings, your team will come back the next day ready to perform at their best.
Spooky Nook Sports
At Spooky Nook, we make meetings fun for the entire staff. Changing the pace with group games and activities can be a great way to build team chemistry and get the most from your meetings. The Spooky Nook Sports facility features state-of-the-art turf fields, hardwood courts, climbing walls and other amenities that will make your corporate event one to remember.
Book Your Corporate Meeting
Planning an upcoming corporate meeting? The Spooky Nook team will help you choose the right meeting venue based on your company's needs. No matter what you plan, breathe easy and let our experienced staff make your event one your VIPs won't forget. Request information from Katie about corporate and business meetings at The Nook.
Request More Information