The best layout for your trade show depends on how you want your message received, how you want to communicate with people, and how attendees access your area.

At Spooky Nook Meetings & Events, we have accommodations for any event of any size. You no longer need to feel overwhelmed with finding the perfect trade show location because our space can handle nearly any size conference or trade show and contains plenty of room for private business meetings.
We customize each space according to your requirements. With 700,000 square feet configured to suit your unique trade show needs, Spooky Nook Meetings & Events offers the following areas:
Hotel atrium for banquets and special events
Olympic hall and fieldhouse for trade shows
Sports courts for events and trade shows
Meeting rooms for all event types
No matter if you want booths or space for breakout sessions, our professional staff will ensure an accessible and functional area for your attendees. We have power sources available for charging stations and even dining options to keep everyone happy. You can choose to order full meals, buffet style or snacks at your event. You can even check out Spooky Nook Sports' food court and smoothie bar.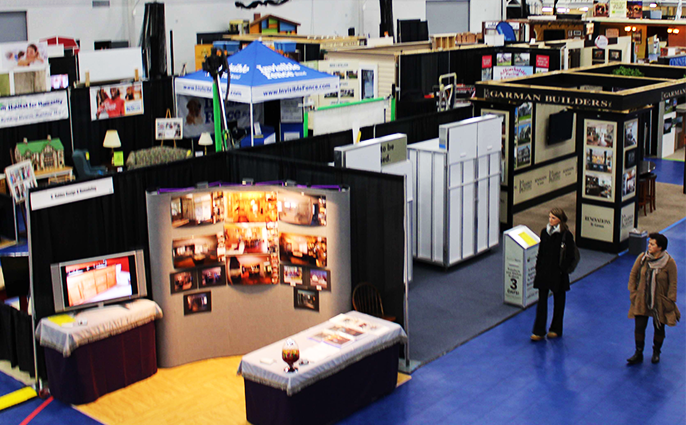 For meals and rest after the trade show, everyone can head over to our casual-dining restaurant Forklift & Palate and our contemporary style Warehouse Hotel, which are both on-site. With 135 rooms and suites at our hotel, attendees can network and relax at the same time in a comfortable environment. It's an enjoyable afterparty for everyone. Other accommodations we provide are accessible parking along with loading and unloading areas for pickups and deliveries.
Tips for Creating the Ideal Trade Show Floor Plan
There are six primary trade show floor plan options to consider before making any big moves. The right design takes heavy consideration and impacts everything from directing the flow of traffic to affecting how long people stay. Your layout can also affect the lead generation an organization can receive, so it's wise to choose a plan that facilitates your objectives for participation.
Check out our several trade show floor layout ideas for when you come to Spooky Nook Meetings & Events:
Axis: The layout provides a centralized structure like a tall tower as other elements surround it. You can place signs, create storage, place desks or have a conference room in the center to provide easy conversation. However, people can only view half of the floor.
Centerpiece: A centerpiece trade show floor plan is ideal for spreading one primary message. With one product as the focal point, people will attract toward the middle.
Fortress: You can create a full or partially-enclosed environment that protects products from an open view. This tactic can captivate an audience, and they will feel valuable because of their exclusive experience. The one downside is space may feel cramped.
Theater: The theater style layout is great for multi-media, demonstrations or presentations. Anywhere within the space, you can place a focal screen and put small monitors around to display supportive information. It helps you communicate complex data.
Conglomeration: Exactly as it sounds, a conglomeration trade show floor plan incorporates different shapes, elements and activities for people to explore at their own pace.
Plaza: The plaza style has products toward the aisle but also draws attendees toward the center to avoid overcrowding.
Trade Show Floor Plan Management With Spooky Nook Meetings & Events
We know the process may be overwhelming and difficult, but our professional team will help you determine the right layout for your trade show. We will support you with any other necessary accommodations, too. Contact us today for more information.
Subscribe to the Blog
Stay up to date