What would it be like to play college basketball?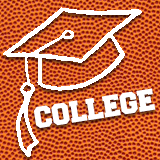 Have you ever wondered what it would be like to play basketball at the college level? Having the opportunity to be trained by high level coaches, access to state-of-the-art strength and conditioning programs, and learning through watching and evaluating basketball game film is an offer that would excite any serious basketball player. The good news for you is that if you train at Spooky Nook, you can train just like the college basketball players do.
We are excited to kick off our first session of the Spook Nook Basketball Academy Development Program. In this program, every athlete will have comprehensive access to all of the resources needed to take their game to the next level. If you are looking to make impact on your game through basketball skill work, strength and conditioning work, and basketball intelligence development, look no further.
The Basketball Academy development program will meet every Tuesday and Thursday evening starting on March 22, and the program concludes on June 2. All basketball skill development sessions will be led by Spooky Nook's Professional Trainer, John Leonzo, and Spooky Nook Basketball director and current college coach Mark Seidenberg. Periodically, Coach Leonzo and Coach Seidenburg will be joined by other local high school and college coaches. These sessions are for players that want to improve their game rather than play games. There will be an intense focus helping the athletes sharpen their fundamental skills (passing, shooting, dribbling), while also developing "team skills" (screening, cutting, rebounding) through game-like drills.
In addition to training with a high level coaching staff, all Basketball Academy Development Program participants will receive sports performance training from the renowned staff at Spooky Nook Sports. The Sports Performance department is led by Coach Jim Launer (former strength and conditioning coach for the Atlanta Falcons), and your athletes will receive training from the same exact staff that is currently working with professional athletes across multiple sports. In these sessions, athletes will develop and improve their skills in the areas of speed and agility, lateral quickness, foot speed, vertical jump, acceleration and deceleration, explosion, and core strength.
Lastly, we emphasize that the game of basketball is just as much mental as it is physical. For that reason, we are implementing "Basketball University" as a part of the Basketball Academy Development Program. The "Basketball University" sessions are designed to teach athletes the concepts of shot selection, time and score situations, how to recognize defensive coverages, and various tactical solutions to attack the game in a smart and efficient way. Through the use of Synergy Sports Technology, athletes will watch video examples of college and professional players executing the very skills that are being taught within the classroom and on the court.
This is a comprehensive basketball development program, and I strongly believe that it will be highly beneficial for all athletes that get involved. Whether you are trying to make the school team this coming year, or whether you want to expand your role on your current team, this is the right program for you. In closing, I encourage you to remember the wise words of Coach John Wooden, "nothing will work unless you do". We look forward to seeing you be a part of our Basketball Academy Development Program.
Topics: News, Basketball