What to Look for in a Basketball Camp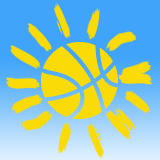 One of the landmark experiences in the life of every youth basketball player is the summer basketball camp. Summer basketball camps provide a great opportunity for players to hone their basketball skills while also developing and cultivating interpersonal skills. Make no mistake about it, the summer basketball camp is a great opportunity for players of all ages seeking to improve their game.
Because of the extraordinary opportunity for development that lies within the summer basketball camp, it is vital that parents and players alike make a strong decision when selecting which basketball camp to attend. Here are some keys that parents and players should be looking for in a basketball camp:
Key #1: Is the focus of the camp basketball development or is it a glorified day care?
You want to be sure to send your athlete to a basketball camp in which they will be challenged and inspired to raise their game to the next level. Basketball camp should be an enjoyable experience, but the main source of enjoyment should come from actually playing basketball and being coached. Many camps today pose under the guise of a "basketball camp", but in reality much more time is spent swimming, relaxing, and loading up on sugar at the concession stand.
Key #2: Is the camp staff full of qualified coaches or is the camp staffed with various students who need a summer job?
Because the majority of the time that your child will spend at basketball camp will involve them being around coaches, it is vital that the camp you send the athlete to is well staffed with qualified and experienced coaches. This is important for numerous reasons. First, if a seasoned coach is working a summer camp, it is because they love the game and love helping young players. Second, as a parent, you are making a financial investment and you want to receive the highest quality of instruction possible for your athlete. Third, and most important, you are placing your child in the hands of someone that you do not know, and therefore trust becomes a huge factor. A seasoned and experienced coach works at camp summer after summer is there because they have proved themselves to be trustworthy and qualified.
Key #3: Is your child prepared physically, mentally, and emotionally for an all-day basketball camp?
It is vital that you consider whether or not your child can handle a day packed full of basketball on both a physical and emotional level. An all-day basketball camp will have your athlete moving virtually non-stop, and it can be a very tiring experience, even for an experienced athlete. If you feel that your child is not prepared to handle a day-long experience, consider sending them to a half-day camp or a skills clinic to start them off. These are both great options to ensure that your child has an enjoyable basketball experience and will continue on playing the sport.
As previously mentioned, the summer basketball camp can be a great experience for basketball players of all levels. The combination of playing the game, learning new skills, and making new friends is a recipe for success. The keys listed above should serve as a general guide to helping you select a camp that will best fit your athlete.
Here at The Nook, we are fortunate to be running many basketball camps over the course of this summer that I can personally guarantee meet the 3 keys to camp selection listed above. Whether it is one of our weeklong day camps, skills camps, shooting camps, or even the Little Dribbler's Lunch Bunch camp, there is something for every athlete here at The Nook.
I would be honored if you were to entrust your athlete to us here at Spooky Nook by enrolling them in one of our summer basketball camps.
If you have any questions in regard to our camps, please feel free to reach out to me at johnl@nooksports.com.
Topics: News, Basketball